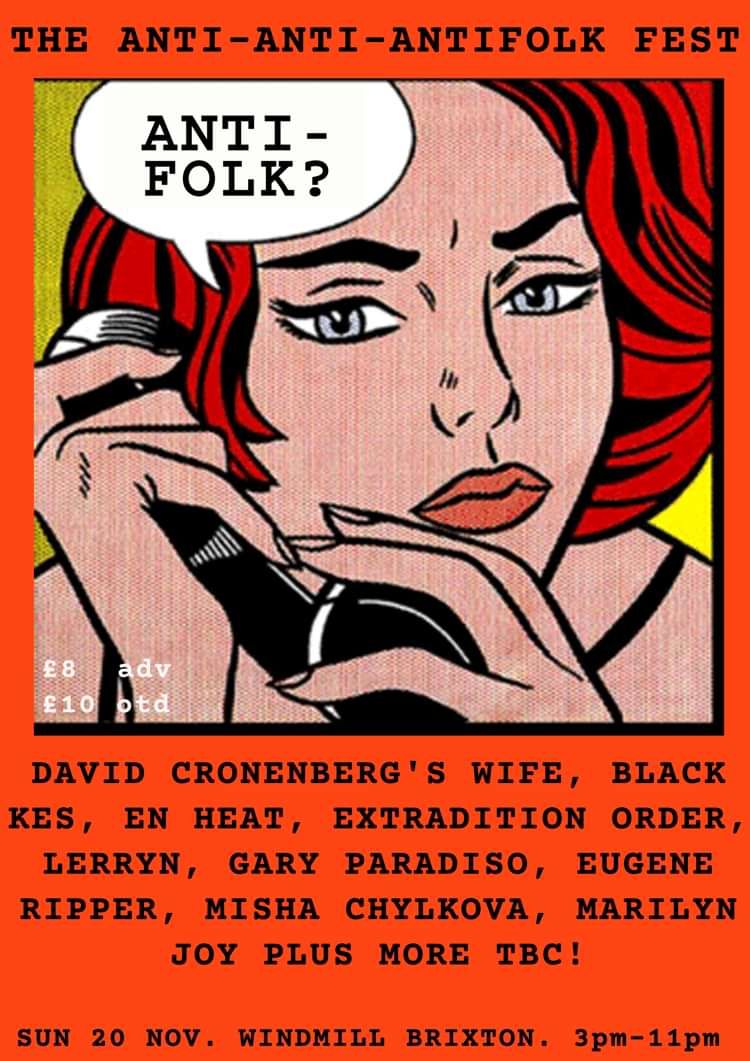 The Windmill presents:
The Anti-Anti-Antifolk Festival - David Cronenberg's Wife + many many more
£8adv/£10door
Entry Requirements: 18+
The legendary Antifolk UK Fest ran four times a year at the 12 Bar from 2005 to 2014.
When Jack Medley got banned from the 12 Bar, he started the Anti-Antifolk Fest at the Windmill.
Now after several years hiatus, and in memory of Jack, we return with the Anti-Anti-Antifolk Fest All Dayer!
Ten weird and wonderful acts over the space of 9 hours.
3:20 ???
3:40 Marilyn Joy https://marilynjoy.bandcamp.com/
Marilyn Joy is a London-based artist/singer-songwriter, writing and playing melody-driven songs sometimes inspired by personal experience and is apparently an 'unpredictable' and 'exciting' live act. Simplicity of sound belies 20 years experience of her instrument. Her fave radio station is Radio X
4:10 Nat the Hammer https://natthehammer.bandcamp.com
Nat the Hammer is the solo alter-ego of Nathan Loughran, lead singer with North London indie outfit The Reverse. Stripped down and lyrical, Nat's solo tunes have been likened to Leonard Cohen and Jeffrey Lewis. In July of this year Nat released his limited edition "Making Mixtapes" a new album of songs written between 2007-2014 on the lo-fi cassette label Kylie Productions. During the past year Nat has performed solo supporting the likes of The Wave Pictures and David Cronenberg's Wife and in May as a guest of Emmy the Great at her sold out gig at St Mathias Church in Stoke Newington. Notably amongst other things Nat the Hammer has been the main driving force behind the very successful "Under The Influence" evening for many years.
4:50 Extradition Order https://www.extraditionorder.co.uk/
Extradition Order "American Prometheus" album was released in 2020, a Northern Soul album about the atomic bomb, following the life and career of J Robert Oppenheimer around the Manhattan Project and the development of the first A-bomb. This was the second of their American Century trilogy after an album about John F. Kennedy. They are currently recording the final part of the trilogy about food writer M.F.K. Fisher.
5:30 Gary Paradiso & His Peccadilloes https://garyparadiso.bandcamp.com/
Gary Paradiso is South London's premier chanteur extraordinaire. Purveyor of doom-wop, shlockabilly, shed rock and plastic soul. Light entertainment which goes beyond the pail. Paradiso has been described as everything from "a pound-shop songsmith from Chip Pan Alley" and "the Pearly King of royalty-free music."
6.10 Simon Breed https://open.spotify.com/artist/16khguhBKxA59DkkhsTanj
Simon Breed, formerly of The Birthmarks and his critically-acclaimed band Breed, has played under his own name around the UK and Europe for over two decades, having supported the likes of Nick Cave & The Bad Seeds (ending with three wildly-received performances opening for the Seeds at the Brixton Academy) and the Magic Numbers. Tirelessly supported by John Peel in his early days, Breed is a towering singer-songwriter in the tradition of Cohen, Walker, Smog, Cash and Cale with a commanding stage presence and an equally arresting voice.
6.50 Misha Chylkova https://mishachylkova.bandcamp.com/
Czech-born but a Londoner at heart Misha Chylkova makes pulsating, hypnotic, beautiful, dark music built with songs built on simple repetition that create subtle spells which creep up and wrap around your heart. Second release on Gare Du Nord Records came out earlier in 2002. Misha will be playing with Darren Hayman (Hefner), and Jon Clayton (Hurtling).
7.30 Eugene Ripper (20 mins) http://www.eugeneripper.com/
After cutting his rock and roll teeth as a founding guitarist in first wave Canadian surf punkabilly rockers, Stark Naked & The Fleshtones, Ripper launched into a solo career that continues to this day featuring a synthesis of punk, folk, roots and rock. From barbed fast 'n' furious acoustic punk folk, rock n roll, sonic atmospherics, lyrical dark ballads and beat driven spoken word, Ripper wraps it all up in post modern stance and punk rock ethos.
8.00 En Heat https://enheat.band/
Avant garde rock & roll meets antifolk in this newly formed super group from Antifolk UK's progenitor Filthy Pedro. Conceived inside a bad dream, on a passenger seat of a Ford Capri illegally parked in a disabled bay in Brighton – with Filthy Pedro, Jay Canapé and Oliver Fist!
9.00 Black Kes https://open.spotify.com/artist/3rynubcIbqTF16IgIqkhIz
Black Kes are four skiffle troubadours from Hull, famed for the joyous theatrical exuberance of their live shows. Singer JT - part Frank Sinatra, part Les Dawson - will take on a whirlwind tour of songs about Oliver Reed, pro wrestling, and how the Hull Daily Mail will print (almost) anything. If you fancy running around the venue to the Benny Hill theme tune, then Black Kes may just be your band.
10 David Cronenberg's Wife - https://open.spotify.com/artist/7C3DYH8eNyONYDHJWZjQn1
Described as "where genius meets idiocy" by Mark Lamarr, DCW return to the Windmill with their fourth album 'The Ship (Necrologies)' under their belt, along with several 6Music sessions on Marc Riley and Cerys Matthews, and a support slot for The Fall back in 2012. With subject matter ranging from the president of Kazakhstan to erotic encounters with mermaids, DCW's dark tales continue to amuse and disturb.