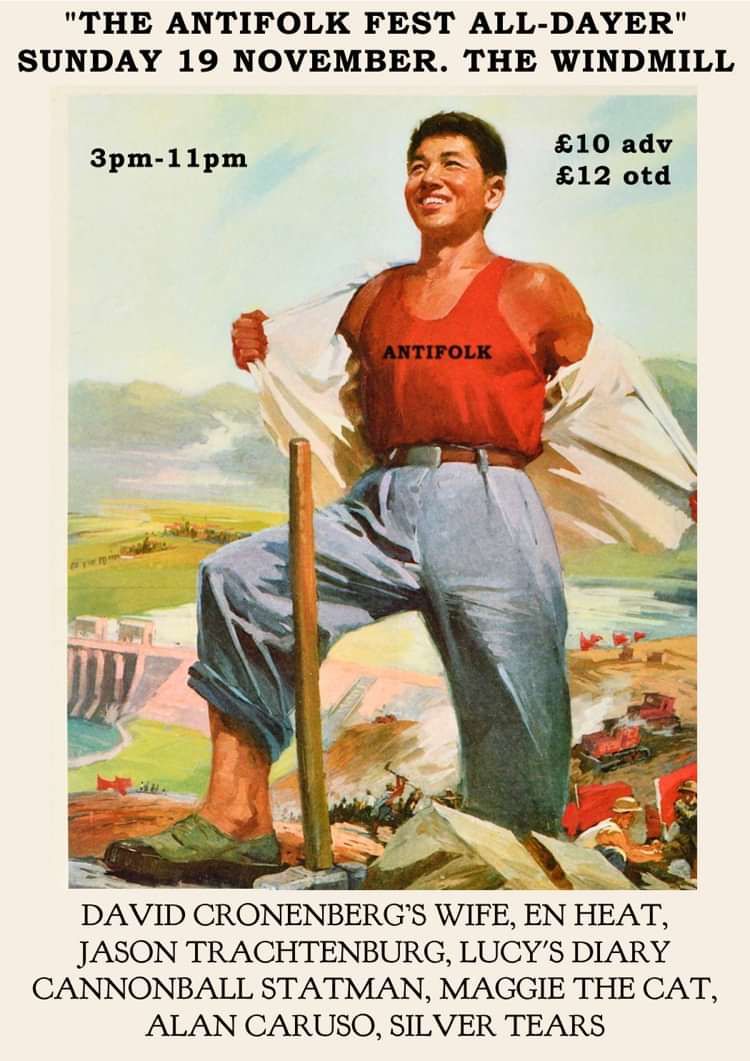 The Windmill presents:
The Antifolk Fest All-Dayer
£10adv/£12 door
Entry Requirements: 18+
After ten mad years at the 12 Bar in Denmark Street, the Antifolk Fest made its debut at The Windmill last year. It went well, so we're returning for a second bite with lots of new acts and some favourites. In the words of Medders, LOSE IT!
More acts to be announced!
Changes are afoot in the world of Cronenberg's Wife. Currently working on their fifth album, DCW have supported the Fall, the Fat White Family, and continue to release strange and challenging music. We asked ChatGPT to explain DCW in the style of Edgar Allan Poe: 'Once upon a midnight dreary, in the vast, labyrinthine landscape of London's music scene, there emerged a band of fascinating eccentricity, christened with a name as curious as its sound - David Cronenberg's Wife. Wrought from the most profound elements of post-punk, folk and country, their melodies possess a stark, macabre beauty - a chilling wind blowing through a graveyard at night, a grotesque dance of shadows beneath the full moon's light.
Much like a gothic tale, their music draws the listener into a surreal, twisted world where darkness and light vie for supremacy, etching a haunting echo in the chambers of one's mind. Their lyrics, oh, their lyrics! Resplendent with dark matter, they weave a tapestry of despair, alienation, and introspection. They probe into the abyss of the human condition, and from its monstrous depths, bring forth truths uncomfortable, yet profoundly enlightening. It's as if they have invited us to a masquerade, where under the guise of melody, we come face-to-face with our deepest fears and desires, stirring the realms of the subconscious, prompting us to confront our own desolate House of Usher. David Cronenberg's Wife, evermore.'
JASON TRACHTENBURG (USA)
Jason Trachtenburg is best known for his role as "The Dad" in the long running Off-Broadway and Indie-rock act The Trachtenburg Family Slideshow Players. He has appeared on "Late Night with Conan O'Brian," MTV, VH1, Sundance Channel, The Bonnaroo Fest, and is a multiple time award winner at the Edinburgh Festival Fringe. He has received feature coverage in the New York Times, the Los Angeles Times, The Guardian, Pitchfork, N.M.E., Spin, and many more. He has given a T.E.D. talk, and his band's debut album (Vintage Slide Collections From Seattle, Vol. 1) reached #79 in the CMJ charts. Jason's 2018 musical, "Me and Lee - The Musical" is the authorized musical adaptation of the historical auto-biography of Judyth Vary Baker: Teen Science Superstar, witness to history, and secret girlfriend of Lee Harvey Oswald in 1963. His third musical, "The Statue" is the story of Anna Dostoevsky, and is premiering Nov 1, 2023 at The Lambs Theatrical Club, and Jason is embarking on a month-long tour of Europe and the U.K. with Jesse "Cannonball" Statman in November and December, 2023. Jason is the leader of the Indie-Big Band "The Pendulum Swings" and he is the President of the 4th St. Food Co-op in the East Village. He recently released a new video "Get Outta' Town, You Fuc#n' Jerk!"
CANNONBALL STATMAN (USA)
Cannonball Statman has released over a dozen albums, and toured extensively in America, Europe, and Asia, sharing stages with like-minded artists such as Jeffrey Lewis and Sunflower Bean. He began making his own music at age 8, needing to channel the trauma of growing up in post-9/11 NYC, and cut his teeth on underground scenes of that era.
Dubbed "the king of modern antifolk", he released the double album Miracle on Neon Clown Avenue in 2022, and did multiple European tours in preparation for the release of Hard to Break in 2023. Each of his albums has its own sound, drawing comparisons to folk, classical, punk, pop, and metal, and all feature his unique guitar style described by Bob's Aural Delights as "the edge of madness", a sense of melancholy and fun, and references to his hometown of NYC. "the punkest motherfucker that I've seen in a long time." (Somer Bingham of The Real L Word). "You can't fuck with this kid. He puts modern "punk" acts to shame. Very aggressive folk music. This is like acoustic Dead Kennedys. He sounds like he is about to snap and he barks like a dog. I think there is something wrong with him…in the best way possible." (Crazy & the Brains frontman Chris Urban in PunkNews)
Brighton based-band who love to play angular altrock psychpunk freakout freakadelia at sweaty cult gatherings, so they seem a perfect for the antifolk fest at The Windmill. Song titles include 'Wedding Night Erection Failure', 'Bastards' and 'Meatcure'. "How to describe the sound… grunge? metal? post-punk? alt-psyche? Who cares?! Dog of Man are cherry-picking the best and creating a sound that's uniquely their own" (Brighton Source)
Fresh off a support slot with Jeffrey Lewis, Filthy Pedro and crew return to the Windmill. Conceived inside a bad dream, on a passenger seat of a Ford Capri, illegally parked in a disabled bay in Brighton. En Heat is a new Brighton band, mixing Avant Garde Rock'n Roll with Antifolk. Featuring Filthy Pedro, Oliver Fist, William Aluminium and Adam Bell.
Giving two impassioned fingers to a music scene littered with synth-led female singers, Lucy's Diary stand out by playing angsty, cheeky pop-punk with big guitars and lyrics as raw and real as they come with Joplin's gutsy, dusky vocals that have the syrupy gravel of Kim Deal and the balls and venom of Courtney Love combined.
Silver Tears are a long-term project led by Anthony Keen: playing wonky, raga inflected janglepop love songs.
Alan Caruso is a country (anti)folk singer-songwriter based in London. Born from the pandemic and ensuing lockdown, the induced periods of isolation acted as the catalyst for Caruso to start writing songs. Taking influence from artists such as David Berman, Leonard Cohen, Daniel Johnston, Bruce Springsteen, Judee Sill, Carole King, Josephine Foster, Faye Webster and Ted Hawkins, he will be making his antifolk fest debut.
Kym is a songwriter and stand-up comedian who quit her full-time job in the dark days of Thatcher and embarked instead on a path in search of anarchist utopia. She delivers comedy workshops and courses, which stresses the healing capacity of the performing arts.