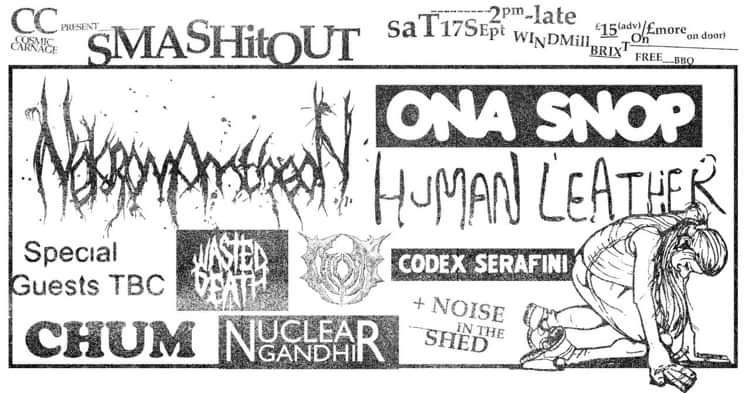 Cosmic Carnage presents:
SmASh it Out W/ Nekromantheon, Ona Snop, Human Leather, Wasted Death + More
£15
Entry Requirements: 18+
Buy Tickets
The SmASH it Out All-dayer 2002, with:
Nekromantheon (Norway)
Legendary Thrash Metal band formed in 2005 from Kolbotn, Norway playing an exclusive UK show. Not sure if we are going to survive this but a good way to go ..
Leeds fastcore. An all-out assault on the senses with maybe a dusting of Municipal Waste powder.
You should know who these are.
"Special Guests"
Stay tuned!
Feat members of Death Pedals, Big Lad, Petbrick, USA Nails & Beggar
That splodge on the posters is actually a logo for a brain breaking progressive death metal act from London.
Saw this trippy psych machine supporting Gnod and they fucking floored me. I think they might be from a magical land and just go around solving mushroom mysteries
CHUM
Incredible new act featuring members of Bit & The Alcocholics. Sounds a bit like a hungover Devo meets Pharoah Overlord
Imagine stubbing your toe whilst listening to pelican.
NOISE IN THE SHED

FREE BBQ! (Afternoon only)

DJs UNTIL LATE
£15 (adv) / more on the door
See you in the pit!