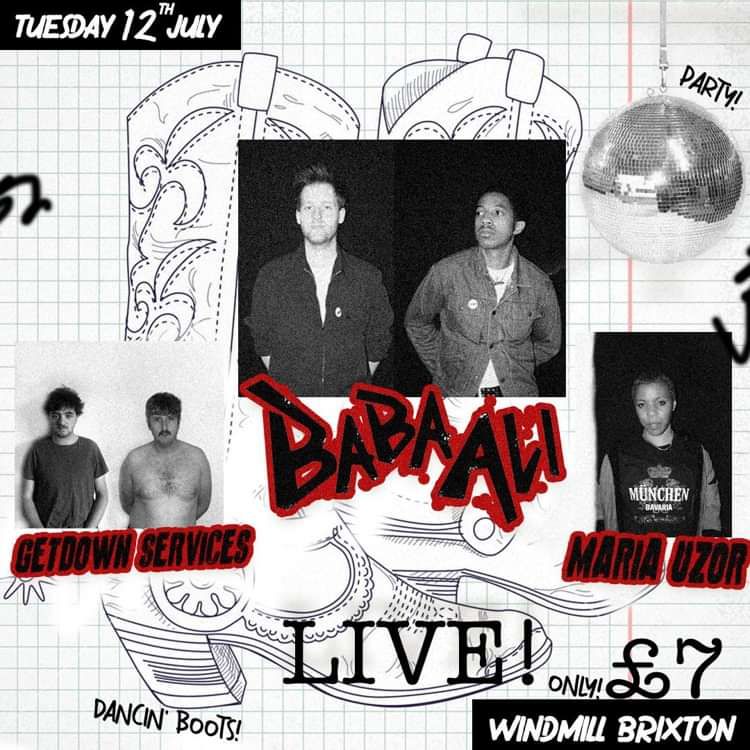 The Windmill presents:
Maria Uzor, Baba Ali, Getdown Services
£7
Entry Requirements: 18+
General Admission (e-ticket)
Merging electro, avant-pop, techno and dub, Maria Uzor is a half Barbadian half Nigerian artist living in the flatlands of Norfolk, UK. 
 Known to some as one half of post-punk duo Sink Ya Teeth, her solo music twists and mutates its way through its influences, chewing up the sun of its parts and spitting out a groove-laden mash-up that nods to both 90s rave culture and Afro-futurism.
Baba Ali began in 2017 as a solo project by the Fort Lee, NJ-native Babatunde Doherty, and the music traces a lifetime of influences from 80s synth-funk, to New York No Wave, to Berlin's underground club scene and finally the experimental punk spirit of Baba Ali's current base in London. After relocating from New York to London, Baba Ali has since been joined by British guitarist Nik Balchin. The new collaboration resulted in the February 2020 release,This House, an eclectic four-track collection fusing funk, blues and soul, and featuring production from Jamie Hince of The Kills.
Baba Ali's pulsating debut album "Memory Device" was produced and recorded with Al Doyle (LCD Soundsystem, Hot Chip) in East London. The 10-song project is both a dizzyingly inventive exploration of Baba Ali's complex musical DNA, and a thought-provoking treatise on the collective angst of modern existence; a dance record dealing in small 'p' politics that, spiritually, has been long in the making.
Here to have a good time not a bad time