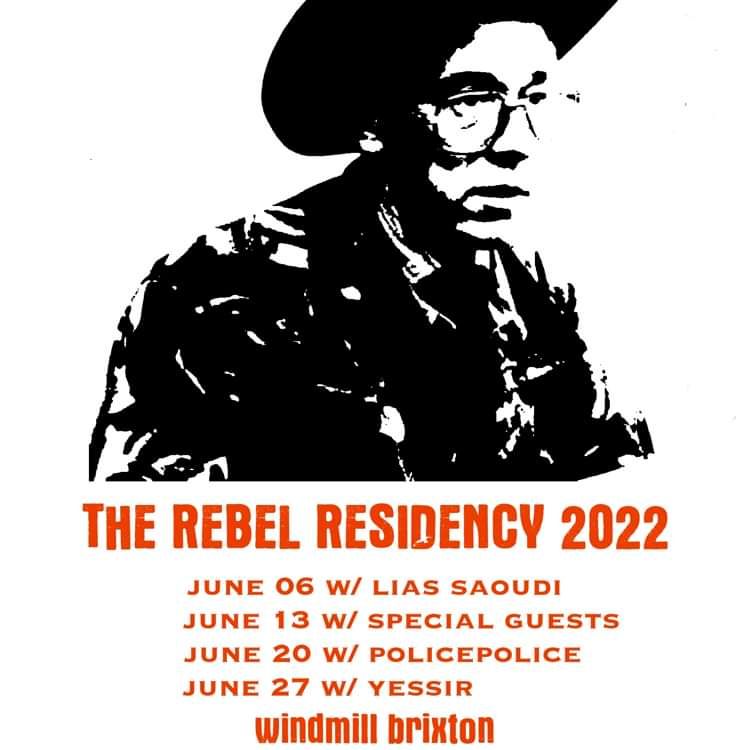 The Windmill presents:
The Rebel Residency #3 w/ policepolice
THE REBEL RESIDENCY 2022
The Rebel has been a huge influence on many bands around south London so in 2017, we thought we'd give him a four-week residency and invite along some guests. They were such good times that we decided to make it an annual event and even managed to keep it going during Covid restrictions. This year we're back to normal standing shows so it should be much fun!
The alter ego of Country Teasers' Ben Wallers, The Rebel dates back to the tail-end of the 80s—having existed side-by-side throughout Country Teasers' prolific career—often releasing records at a steadier clip than Waller's main project with songs too madcap to fit into even their William-Burroughs-by-way-of-The-Residents take on country music.
Elliot and George met at a Christmas nativity play in Dalston. Both wanted to make something together, but at the time Elliot was a Jazz pianist and George was a depressed mime. They tried making a film, talking with the dead and improvising together, but finally settled on forming a band instead…   In 2019 they started playing with Martin Lee Thompson on Euphonium and Jay Davis on drums. They shared a love of ancient Finnish Mythology and electronic dance music: policepolcie was born. They played a series of unadvertised, secret shows, and moved to rural Wales together to record an album in a storm and live exclusively off Jacob's crackers. For the next 2 years they went into lockdown, worked at a café in Norway and studied witchcraft in Lithuania. They now feel ready to share their debut album with the world.