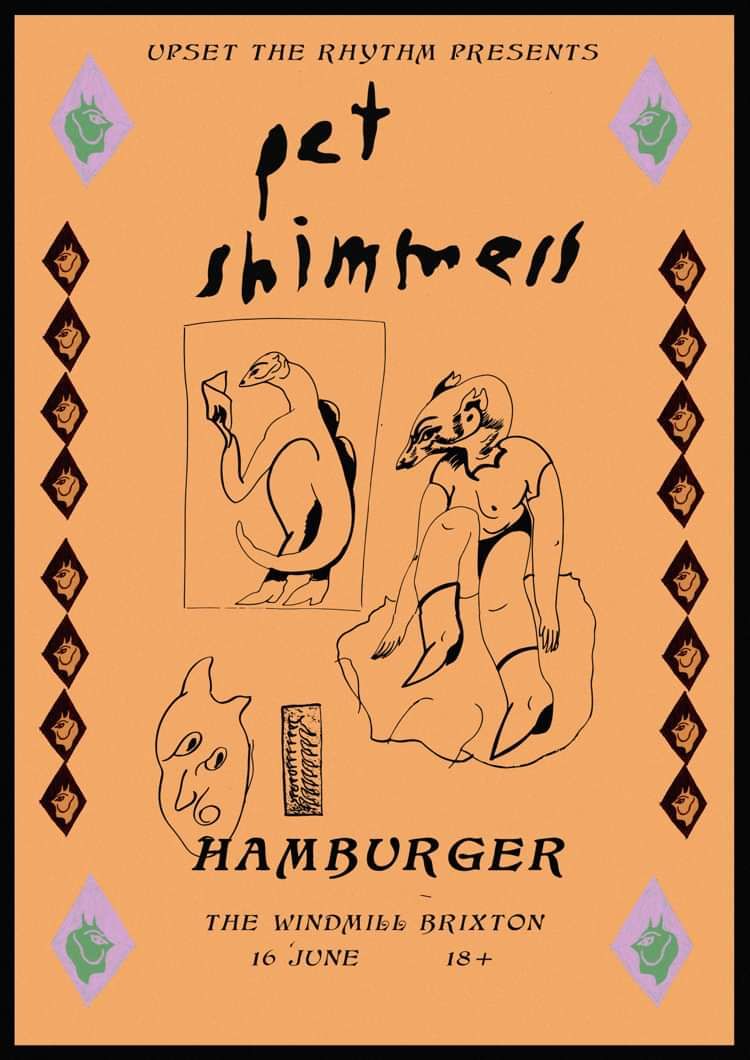 Upset The Rhythm presents:
Pet Shimmers + Hamburger
£7
Entry Requirements: 18+
Buy Tickets
An eclectic ensemble made of a collaborative core; solo artist (and recent Katy J Pearson collaborator) Oliver Wilde helms songwriting alongside William Carkeet, emerging producer and one half of London duo Robbie & Mona. Newest recruit Jonny Allan once took center stage duties for the influential Happyness, drummer Mig Schillace spent earlier years drumming for Portishead, and bedroom solo project Soft Den sits with Florrie AL. Melody extraordinaire Lexie Jennings and guitarist Rich Clarke complete the ensemble.
The "Sonder" b/w "Edgelord" 7" is the first piece of new music to come from Pet Shimmers since 2020. It's a moving mass of technicolor instrumentation - sparkling guitar, taut percussion, and crashes of noise. Songwriter Oliver Wilde's poetic paranoia climbs towards a victorious chorus. It was the first track the group wrote following COVID restrictions, and was recorded at The Louisiana, a crucial grassroots venue in England that acts as a basement studio by night and a rehearsal space during the day. "Sonder" b/w "Edgelord" 7-inch, is due out June 17th via Brokers Tip, the label of Bob Nastanovich.
..is Tom, Katie, Liv, Fearghall, Mike and Doug; six goofs from Bristol playing "stupid songs about their stupid feelings". Shimmery, wistful bedroom pop with a 12" EP out now on Specialist Subject. The six tracks on 'Teenage Terrified' are highly crafted and reflective, focusing on personal themes and emotions, but often twisted through a semi-fantastical lens.