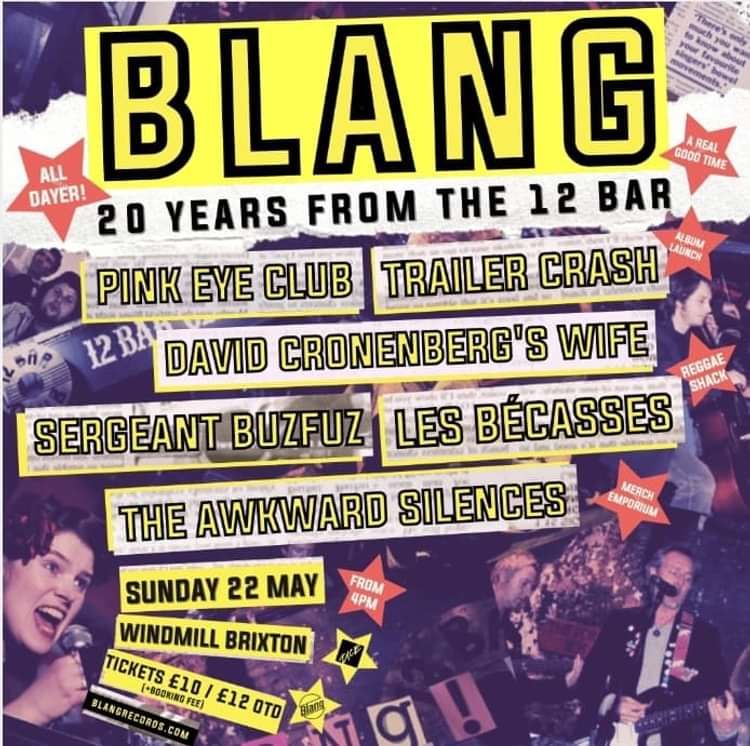 Blang! presents:
Blang: 20 Years from the 12 Bar All Dayer
£10adv/£12 door
Entry Requirements: 18+
Buy Tickets
It's 20 years since the twinkly eyes of the first ever Blang night @ 12 Bar Club (RIP) led to the birth of a fully fledged independent label, so we're having a party!
Come celebrate South London style @ Windmill Brixton as we pack in 6 acts, one album launch and a trip down memory lane spanning 100 releases, countless anarchic nights and 20 years of outsider music. Outsiders, antifolkers and anti-antifolkers all welcome. From 4pm.
PINK EYE CLUB South London's premier purveyor of good times. Disco is his religion.
DAVID CRONENBERG'S WIFE Like a creepy uncle to the DIY scene's most distasteful brats. Where genius meets idiocy.
LES BÉCASSES Pop punk trio from the Parisian underground.
TRAILER CRASH 3 piece fresh out of Hitchin, now with added banjo. Launching debut album 'Slow Down Old Man'.
SERGEANT BUZFUZ Storytelling heavy on hooks and universally charming.
THE AWKWARD SILENCES Outsider pop mavericks.