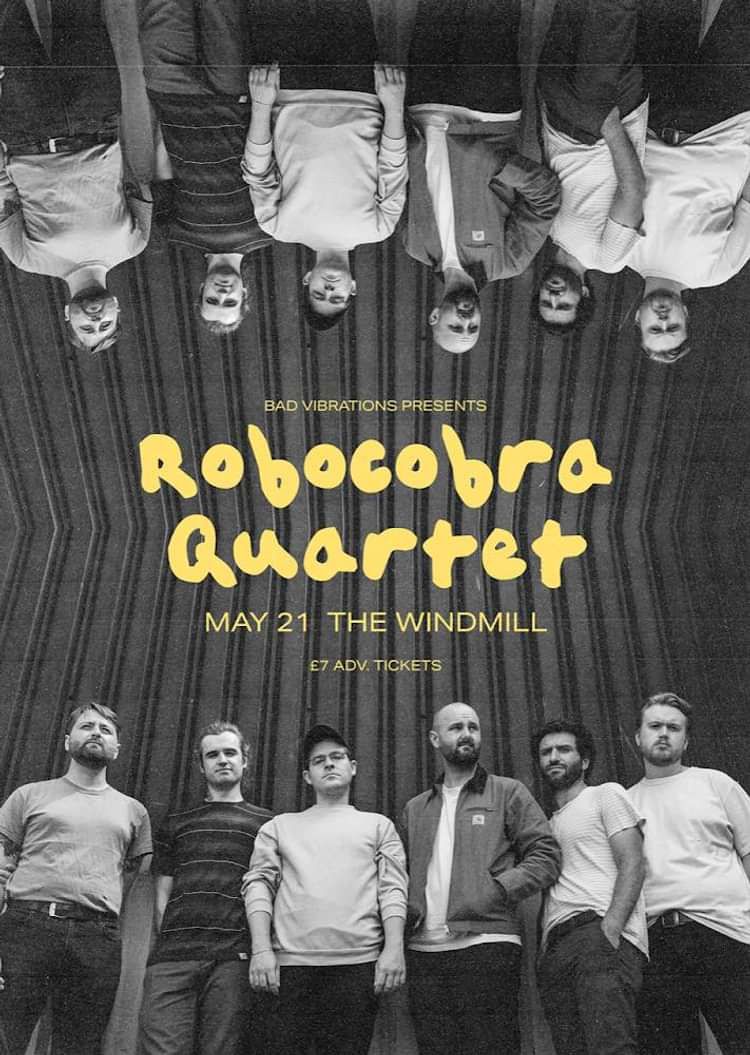 Bad Vibrations presents:
Robocobra Quartet, Lara Jones, Quade
£7
Entry Requirements: 18+
Buy Tickets
Bad Vibrations is delighted to welcome Robocobra Quartet to The Windmill. Improvisation and experimentation is at the core of Robocobra Quartet's DNA, whether it be in the fluidity of their line-up (six musicians tagging in and out to make up the live touring quartet) or in their unique self-produced records which flirt with choral groups and string sections - almost intentionally at odds with their ostensible roots as a post-punk band. On stage, the band are protons and electrons circling drummer-vocalist Chris W Ryan; meticulous arrangements and on-the-spot improvisations hang on every word spoken, sung and shouted by Ryan. These words and rhythms are what propel the music of Robocobra Quartet forward (or upside-down if the mood is right) and concoct a sound that is groove-driven but cerebral too, invoking the likes of Fugazi, Talking Heads and contemporaries such as Squid and Black Country, New Road.
"A cunning marriage of jazz, spoken word and punk" - The Quietus
"Fugazi meets Mingus." - Drowned in Sound
"Exploratory pioneers." - BBC Radio 3 Late Junction
Support comes from award winning saxophonist, improviser, composer and producer Lara Jones and Britsol based newcomers Quade.