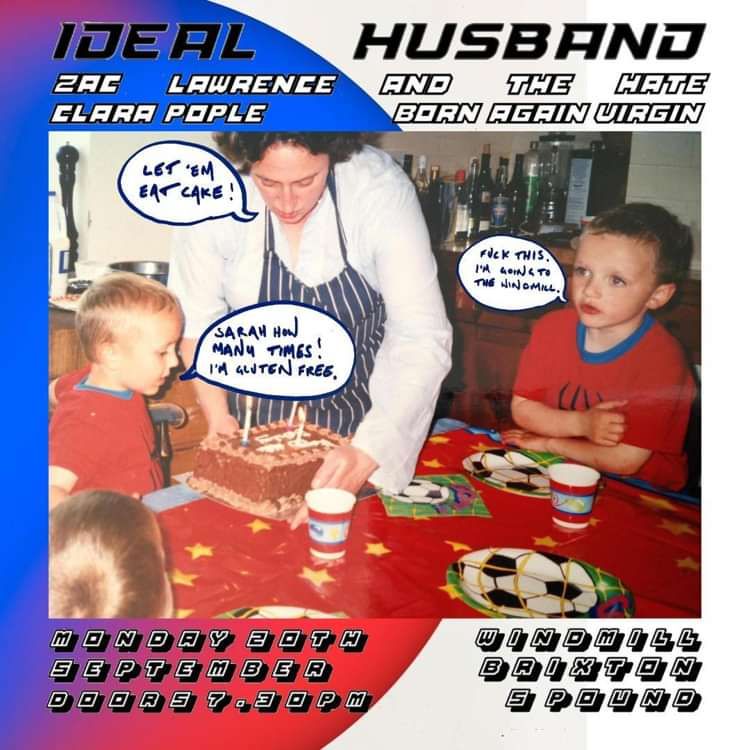 The Windmill presents:
Ideal Husband, Zac Lawrence & The Hate, Born Again Virgin, Clara Pople
£5
Entry Requirements: 18+
General Admission (e-ticket)
Fresh ensemble with a sweet psych-speckled folk sound.
https://www.instagram.com/_ideal_husband_/
ZAC LAWRENCE & THE HATE
DEADLETTER's pseudo-intellectual frontman Zac Lawrence unveils his new side project "The Hate". He displays an Americana/Folk tinged air (think Cohen, Lanegan, The Waterboys) juxtaposing the overtly tumultuous outfit we have seen him front up to now.
The Hate showcases the songwriter's ability to approach the live atmosphere with serenity. "All of the songs begun as sets of lyrics that I didn't feel were right for the band. Within them lay similar tones of cynicism but introspection not previously flirted with. If "DEADLETTER" is me howling at the moon in the middle of a far away valley, then "The Hate" is me making small talk with a lamp in my bedroom."
Crybaby alt rock via Austin, TX.
Her first self-titled EP, produced by Brian Beattie (Daniel Johnston, Bill Callahan, Okkervil River), was released independently in 2017. Since moving to London she's had records put out by the My Little Empire label. LISTEN here.
She writes, she sings, she loops, she performs.
Tickets also available via DICE