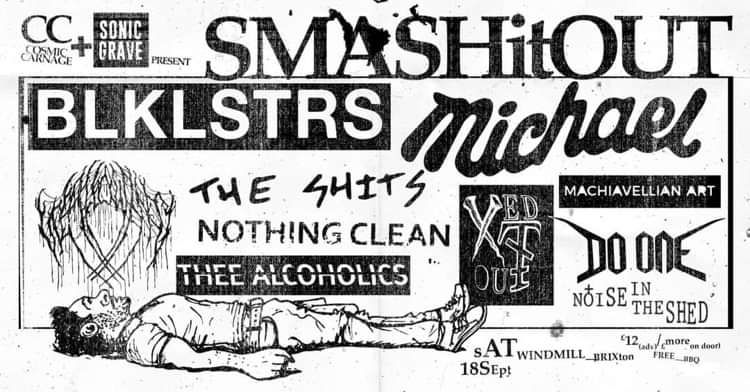 The Windmill presents:
SmASh it Out w/ Blacklisters, Michael, Wallowing + more
SOLD OUT
Entry Requirements: 18+
Buy Tickets
COSMIC CARNAGE and SONIC GRAVE present SMASH IT OUT VII
Hydrochloric noise rock luminaries' straight outta Leeds. In the swirling mire of dog shit that was 2020 the quartet's much awaited return LP was an undoubted high point; if you've ever wanted to punch your boss in the face and torch the office this lot are for you. We couldn't be more excited to bring them to the Windmill.
Formed from the ashes of much missed scene heroes Bad Guys and now a stonking outfit in their own right. Like taking a road trip with the former, only swapping Hackney for the Mojave and cheap hash and larger for peyote.
Circumstances conspired to prevent the London based, sci-fi obsessed blackened-sludge/psych troupe from appearing at the last Smash It Out in 2019 so we're particularly excited to finally welcome them to the bill. Last time we wrote something about black metal, PCP, beekeeper masks and aliens but we can't remember what it was. You'll just have to find out for yourself.
A bit like Drunk in Hell but you don't know if you've taken bad drugs or have food poisoning
The most ferocious grindcore since hundreds of years before the dawn of history
Noise-laden, boulderous hardcore from Kingston, featuring members of the still-missed Silent Front and d-beat-death metallers Wound. Think something like Shellac going 12 rounds with Integrity whilst Steve Ignorant shouts constructive abuse from ringside... If that even makes sense.
"I'd never heard of these South East London noisers until CC's Rich sent a bandcamp link my way. A week later I was face down in a ditch in Lewisham drinking turpentine and swapping teeth for Meth. Would highly recommend. Think Todd meets Godflesh Meets Can." (Toby, SG)
Sitting somewhere very uncomfortably between Drunk In Hell, Helmut and Fudge Tunnel lies Walsall's Machiavellian Art. Think sludge-y, head nodding riffs, pile-driving drums and psychedelic saxophone wails that bore into your brain like those weevil things in Star Trek II. Unmissable!
Do you like caustic, skin-peeling d-beat punk that'll ossify the calcium in your bones and make any nearby Tory shit their spine out of their arse? Oh, you do! Then get down early for this lot, yeah.
NOISE IN THE SHED

FREE BBQ! (Afternoon only)

DJs UNTIL LATE