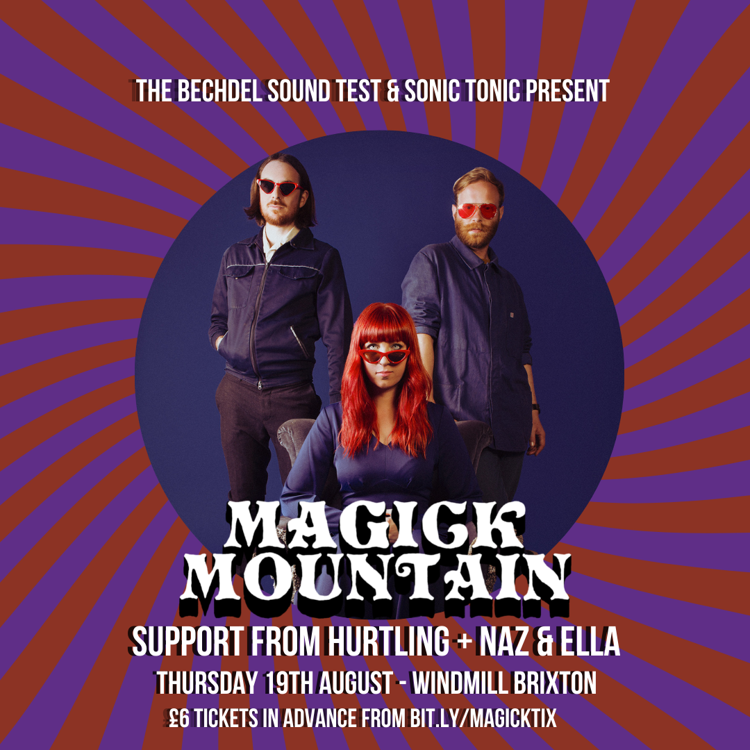 The Bechdel Sound Test & Sonic Tonic presents:
Magick Mountain, Hurtling, Naz & Ella
£6 + bf
Entry Requirements: 18+
Buy Tickets
With tales of infinite space, otherworldly escapes, hazy dreams and Weird Feelings that weave together the supernatural and the visceral; Magick Mountain are a power trio with colossal riffs, entwining harmonies and fistfuls of wild, distorted energy. They are quickly carving out a place for themselves at the vanguard of an exciting new movement of high octane garage-rock bands, releasing four singles throughout 2020, followed by their debut album, Weird Feelings.
Magick Mountain is what happens when the planets align and sees seasoned musician Lins Wilson assume her rightful place; leading this fuzzed out, psychedelic, proto-punk power trio, flame red hair flowing and guitar wailing. Having written and performed with many legendary Leeds bands (including Grammatics & Mother Vulpine), Lins is now flanked by like-minded northern noiseniks Tom Hudson (Pulled Apart By Horses) and Nestor Matthews (Sky Larkin, Menace Beach).
Magick Mountain have already graced Radio 1, BBC6 Music, BBC IntroducingWY, Latitude Festival and Live at Leeds with their presence, were featured on CMJ's Music Marathon and have shared stages across the UK with the likes of The Cribs, Meatbodies, Stonefield, Psychedelic Porn Crumpets, levitation room, Wand, Cherry Glazerr, Los Bitchos, Dream Wife, Thee MVPs, YOWL and more.
Praise for 'Weird Feelings':
"Blissed-up, fuzzed-out and impressively monolithic" - Uncut
"Brimming with mystical delights, governed by urgent, fuzz-heavy, riffs and a trippy disposition." - PROG
"An album full of twists and turns that grip you entirely from start to finish." - DORK
Hurtling is sometimes dreamy, sometimes noisy. Heavily influenced by 90s alt-rock, Hurtling's pop sensibilities are bathed in loud guitars, intricate bass lines, all underpinned by driving drums. Taking inspiration from bands such as The Breeders, Sebadoh and Throwing Muses but making a sound all their own, the three members of the band are seasoned professionals.
Lead singer/guitarist Jen Macro has played and sung live with artists including My Bloody Valentine and Graham Coxon (Blur) and recently added guitar to the LOUDWOMEN ensemble's single 'Reclaim These Streets'. DrummerJon Clayton has run OneCat Studio for over 10 years and has worked with artists including Jim Bob (Carter USM), Charlotte Hatherley, The Monochrome Set and many local South London bands. Simon Kobayashi (Bass) is founding member of Smallgang and has lent his musical talents to Shonen Knife, Bitch Magnet and Kath Bloom.
"A glorious woozy fuzz. Confident and in control, but when they want to, Hurtling can let rip and tear us all a new one" - The Quietus
Fusing a gritty, grunge-infused aura with traditional folk-inspired musicality, Naz & Ella channel their anger and frustration at the world through tightly wound harmonies and intricate guitar riffs.
Their second EP (DE)HUMANISE, released in May 2021, sees the duo continue to share their social commentary and perspectives on issues including internalised queerphobia, normalised sexual harassment, the exotification of women of colour and the hypocrisy of speciesism. Blending influences such as The Cranberries, Nirvana and PJ Harvey, the north London-based duo's raw and intimate sound captivates listeners, with their delicate but defiant vocals front and centre.
Naz & Ella have been dubbed as ones to watch by Soundsphere Magazine and received plays across BBC Radio 6 Music, BBC Radio London and Radio DIVA, including a performance live on BBC Introducing Beds, Herts and Bucks.
TO ALL TICKETHOLDERS
Hope you are all looking forward to this show..
Covid is still very music around so with that in mind please consider some or all of these things to ensure we all stay as safe as possible
please take a test

if you don't feel well or have been pinged please stay at home

wear a mask whenever possible

use hand sanitiser

wash your hands

be considerate to others
Thank you and have a great night!