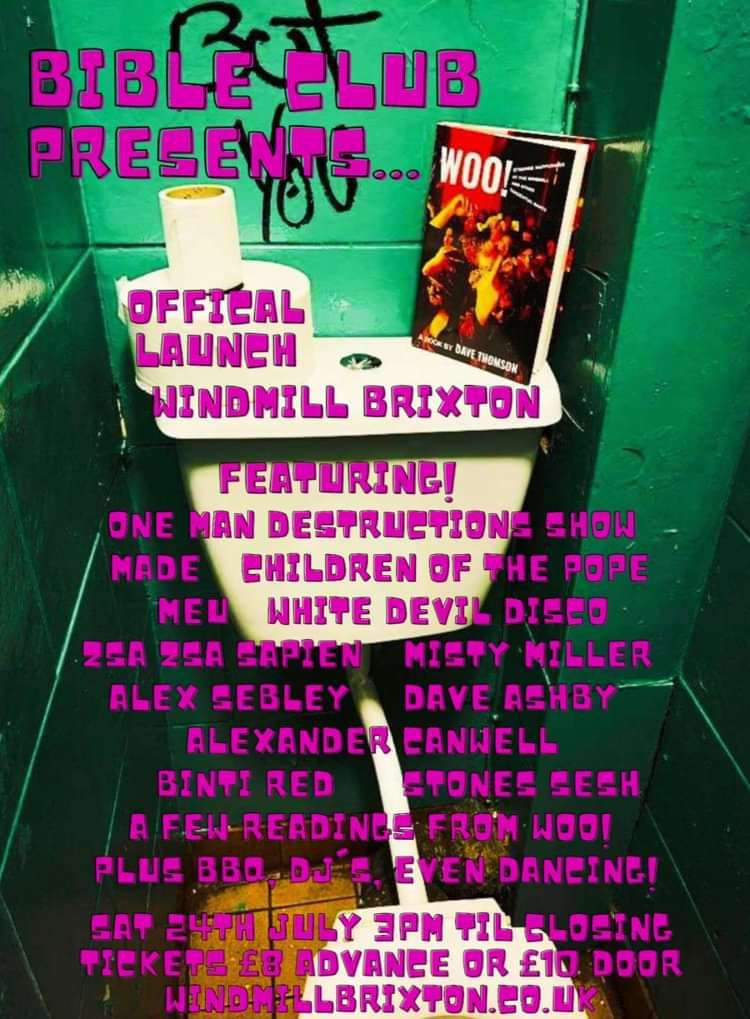 Bible Club presents:
WOO! (Book Launch/Mega Party)
SOLD OUT
Entry Requirements: 18+
BIBLE CLUB presents a launch party for
"WOO! Strange Happenings at the Windmill and Other Tangential Rants"
Author, Dave Thomson, recalls a riotous night out centred around two important Brixton venues where he regales us with tales from the not-too-distant past. You know, pre-pandemic gigs? The old normal – where you could mosh with strangers, collapse in a sweaty heap, share the same pint, round robin a rollie. All this and more, without any of it feeling oddly strange or downright irresponsible.
In an irreverent poke at dubious politics, social media and various cultural icons, the reader is taken from the Windmill to the Academy and back again as Dave boomerangs through space, time, gigs and major life events on his journey to find the true meaning of Woo!
Limited deluxe hardback edition exclusively available HERE
There's going to be loads of live music (see below), some readings from WOO! and a BBQ.
One-Man Destructions Show a rare outing for Adam J. Harmer (guitarist with Fat white Family and Warmduscher), the most ambidextrous one-man band in town, bringing us his One-Man Destruction Show in which he plays drums, guitar and harmonica whilst channelling the collective spirits of Boss Hog, The Cramps and The Stooges to glorious effect.
Children of the Pope a six-piece religious cult of a group from South America and Europe currently based in South London. The children are singing and screaming f**king Hallelujah! Most definitely one to watch.
Made founded by Sophie Coppin and Adam Brennan (of Fat White Family/Scud FM/Brian Destiny) as a home recording project during lockdown 2020. Now a full live band with Jack Fussey (Phobophobes), Chris Kavanagh (BAD/Sigue Sigue Sputnik) and Dan GB (Scud FM). Already fully formed and ready to go, this will be their debut performance. MADE: The World Ain't Round (demo)
Me=U a band formed south London legend Patrick Lyons, a collective of musicians, film makers, performance artists, poets and revolutionaries. Imagine the bastard love child of Howling Wolfe and Allen Ginsberg backed by The Aristocats and you will be roughly in the right terrain.
Zsa Zsa Sapien front man of Meatraffle and Scud FM, Zsa Zsa will be performing songs from his recently released solo project Sapiosexual, which includes a cover of Pet Shop Boys' 'Rent', an anti-capitalist repurposing of 'The Mending Song' from Bagpuss and plenty of psychedelic dub, electro and punk. To press this album, they broke into a redundant pressing plant that had been closed during lockdown and paid a technician with bags of rice.
Misty Miller: "Miller deals in the kind of melodies that bring to mind the Americans to whom tunes are second nature – Kim Deal, say, or Jenny Lewis. Miller's elastic voice has most often been compared to Chrissie Hynde of late, but her songs are more snaggle-toothed propositions, reviving a kind of deathless pop-punk ramalama that skirts fashion." The Guardian.
Alex Sebley co-songwriter of early Fat White Family classics such as "Touch the Leather" and frontman of Pregoblin. Alex is a purveyor of perfect pop songs - funny, charismatic, and self-deprecating, with a knowledge of their own artifice. He will be performing a more intimate solo set.
Dave Ashby lead singer of south London legends SLEAZE, a band that truly lives up to their name and in all the right ways, Dave is playing solo claiming he'll show us a more sensitive side to his song writing.
Alexander Canwell recorded his debut album 'Folder 15' during lockdown, a stupendous album which dances somewhere between punk, hip-hop and folk. His solo performances most certainly corrupted by his past in the theatre, Alex can make you laugh and cry with his tall lyrical tales from the heart.
Binti Red brings her ethereal vocals, gothic folk and twisted lullabies to the proceedings.
The Stones Sesh kicks off the whole event with a collection of poignant and arresting songs.