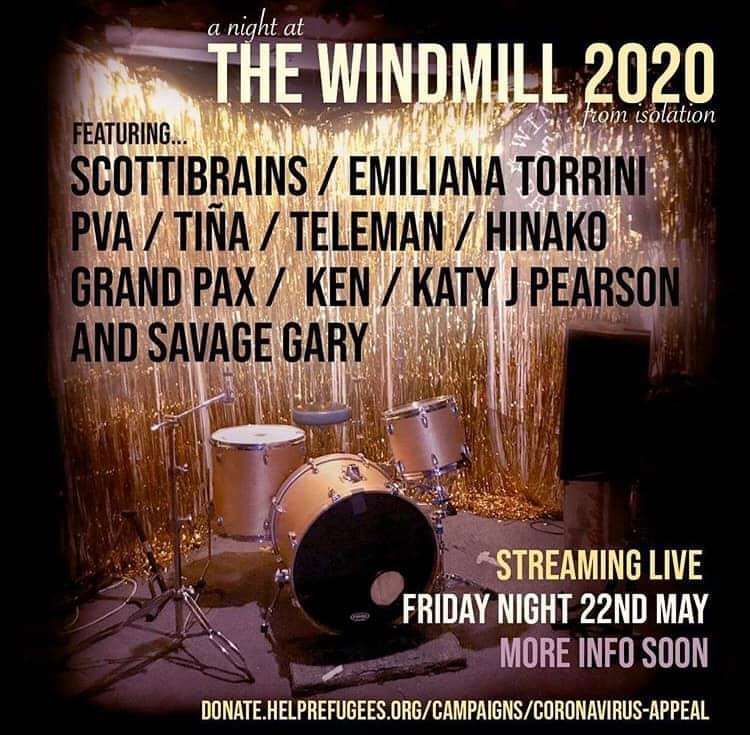 The Windmill presents:
A Night at the Virtual Windmill
£various
Entry Requirements: 18+
Buy Tickets
A Night at the Windmill 2020 from isolation This year we're holding a virtual event combining a zoom party with live-streamed bands in something we're calling A night at the Windmill. We're hoping the bands will actually be live, but playing together from their different locations.
The night will be raising money for Help Refugees Coronavirus Emergency Appeal, recognising that In the face of coronavirus, refugees living in overcrowded, unsanitary camps need our help more than ever. It is also designed to be a tribute to The Windmill, a venue that we love and want to support.
Its an experiment and we're keeping a semi-private party vibe, so please do invite friends and family, but we won't be publicising it in the press. This way we can take some more risks. Things may go wrong!
IT IS AN AMAZING LINE UP (may be subject to change)
Hinako Omori - http://www.hinakoomori.com/ Katy J Pearson - https://www.youtube.com/watch?v=WG0lKOKkb1I Grand Pax - https://www.youtube.com/watch?v=SyoD516qxRA Tiña - https://www.youtube.com/watch?v=s49GYToS9IE Teleman - https://www.youtube.com/watch?v=NcSLHE_TYXw PVA - https://www.youtube.com/watch?v=zsAMxVp_qbM Scottibrains - https://www.youtube.com/watch?v=EBAxCzj4fvM Emiliana Torrini - https://www.youtube.com/watch?v=phKR6wtNl0E Ken - https://soundcloud.com/kenyoumusic
DATE AND TIME 22nd May between 8-1am After-party 'back at ours' getting savage with Savage Gary and mystery guests - https://soundcloud.com/speedywunderground/sw024-black-midi-savage-garys-dbdbdb-b-side
PRICE Its pay what you can vibes again, we have 10 bands, so our minimum of £10 works out at £1 per band. I know everyone is skint, so I'm sorry to make you pay, but if we don't, we don't make enough money for Help Refugees. I hope you understand.
HOW WILL IT WORK? If you buy a ticket, leave your contact details - email & phone if possible. Nearer the time we'll be sending you a link to the zoom party, by email and text.
You just need to click on that link to let yourself into the party, using a name that enables us to recognise who you are and tick you off the guest list before we admit you. If you share the link with friends, they won't be able to come in unless their zoom name matches the name they've booked with. If you book for someone else, make sure they mention your name in their zoom name or that they contact us first to let us know.
If you really can't get in or work out the technology, we'll give you a number to call that evening.
Zoom will be fun because we can see each other, but it has not so good audio, so we're streaming the audio via a separate link. We'll give you that once you're in the zoom meeting on the night.
For optimum listening and viewing pleasure, we suggest you plug your computer into speakers if it isn't already.
If you have a picture of the Windmill you want to use as a background in zoom, this is also highly encouraged. There are tonnes on google images.
If you bought a ticket to the face to face version and would like it transferred please let me know.