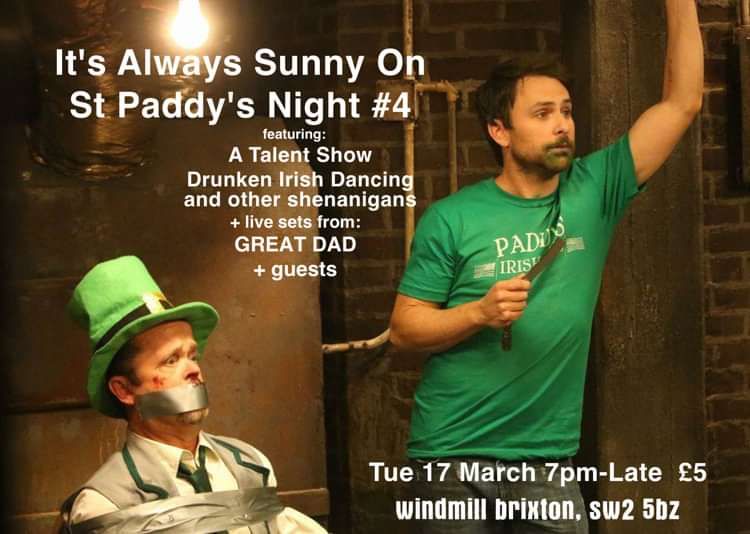 The Windmill presents:
It's Always Sunny On St Paddy's Day #4
£5
Entry Requirements: 18+
General Admission (e-ticket)
Once again on Sunday 17 March we'll be transforming the Windmill into everyone's favourite Philadelphia bar - Paddy's Pub - to celebrate St Patrick's Night.
This sold out in advance the previous years so make sure to get in by buying a ticket.
We'll have an It's Always Sunny In Philadelphia-style TALENT SHOW featuring live covers of Irish artists from performed by members of our favourite bands plus live sets - with Belfast accents - from:
GREAT DAD - https://open.spotify.com/artist/4qSzOEYj6Afs89pVK3uL1r?si=RwJh8hmgRv2KsqEFiPBxXQ
BIRTHDAY GIRL - https://soundcloud.com/caitie94-1/last-holiday
Other activities include a freeform IRISH DANCING COMPETITION and other It's Always Sunny shenanigans.
And of course the place will be decked out in the most lurid green decor we can find and the Guinness will be flowing!
Dress Code: Green (Man)
Troll Toll: £5adv