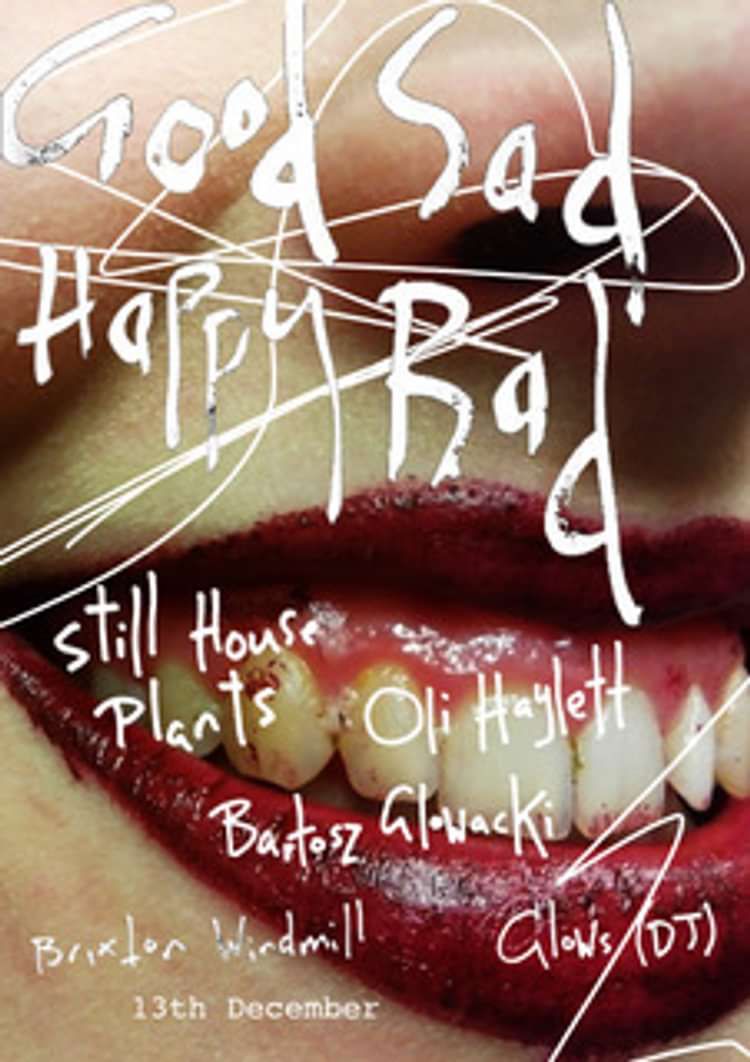 The Windmill presents:
Good Sad Happy Bad + Still House Plants + Oli Haylett + Bartosz Glowacki
£5
Entry Requirements: 18+
GOOD SAD HAPPY BAD
One of London's treasures. Good Sad Happy Bad weld together pop hooks and weld and eccentric textures. They are:
Chris Calderwood
Raisa Khan
Mica Levi
Marc Pell
https://www.facebook.com/goodsadhappybad/
https://good-sad-happy-bad.bandcamp.com/
STILL HOUSE PLANTS
Combining visual strategies, free improvisation, UK garage and punk, Still House Plants build melodic hierarchies scaffolded around ambiguities and intimacy. Ranging from seconds-long to seven:minute:somethings, their sets coagulate to form a heady meld of rudimentary phrases, kinetic repetition and malleable samples.
"Experimental songwriting is very rarely this successful or approachable, save perhaps the likes of Robert Wyatt's 'Sea Song' or perhaps more pertinently, the Velvet Underground's 'Heroin'." – The Quietus
https://glarc.bandcamp.com/album/still-house-plants
OLI HAYLETT
Olivir Haylett is an improviser and sound artist based in Southeast London.
Working with the bass trombone, guitar and field recordings Olivir filters and simultaneously emulates the sounds of the environments we inhabit. Performances are immersive meanders through textural sounds and noises which, through repetition and volume, end up playing the room on the edge of feedback.
https://soundcloud.com/olihaylett
BARTOSZ GLOWACKI
Bartosz Glowacki is one of the leading lights of a new generation of accordionists. His artistic goal is to improve awareness of the accordion in classical music, as well as to develop a new repertoire for his instrument.
"the coup de foudre was Bartosz Glowacki. By instinct, a solo accordion is not my top choice for a good night out. Life deals its shocks, however. (...) the young Pole creates a poignant and distinctive sound world." - Fiona Maddocks - The Observer
https://www.facebook.com/glowackiaccordion/
Plus..
Glows DJ set into the early hours…
Stagetimes:
8pm Doors
8.40pm Bartosz Glowacki
9.30pm Oli Haylett
10.15pm Good Sad Happy Bad
11.10 Still Houseplants
Then; Glows DJ