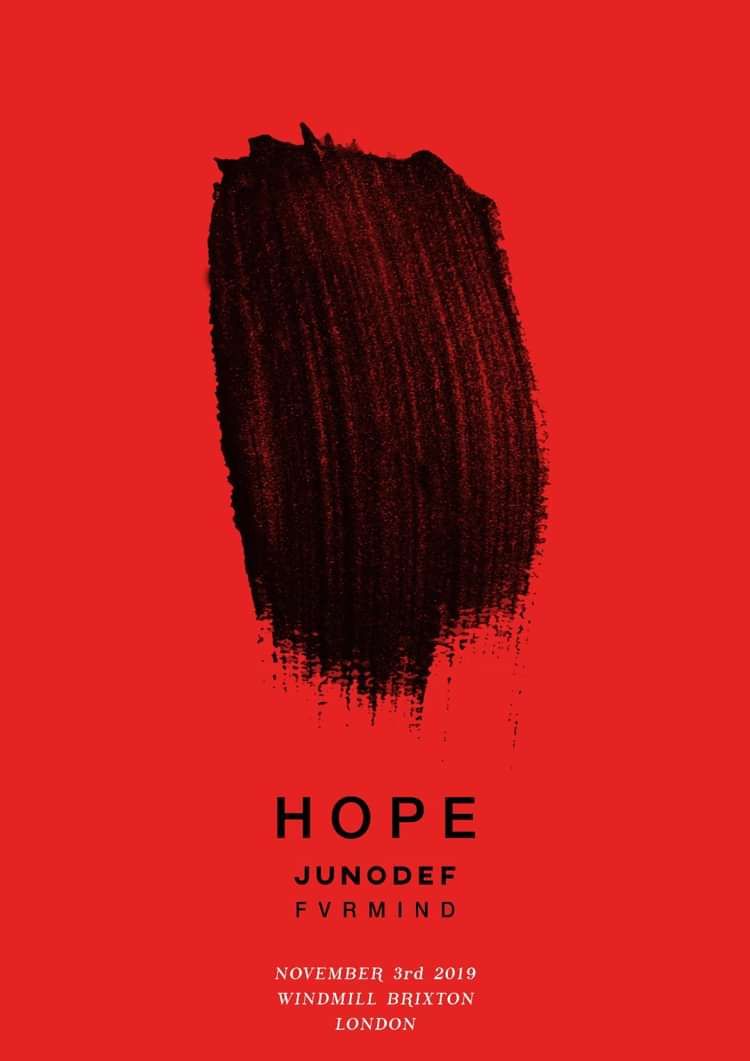 The Windmill presents:
Hope, Junodef, FVRmind
£5
Entry Requirements: 18+
HOPE (Germany)
Can there be German pop music?
Imagine Portishead formed in Berlin today. Josef Beuys comes along, shreds the band with a coarse wire brush, and exhibits them in a dark, 100 foot high silo for the production of artificial icebergs. The resulting Gesamtkunstwerk may well be a close approximation of Hope.
"Reminiscent of Portishead's intensity. Digital pop that stands out." - CLASH
"Hope are mesmeric live. Beautiful music by beautiful people." - Joe Talbot, IDLES
"A satanic Sigur Rós" - Gigwise
"I was absolutely blown away. The album is fantastic" - John Kennedy, Radio X
"Hope are one of the best bandswe've had the pleasure of sharing the stage with" - ALGIERS
Their self-titled debut album was recorded by Olaf Opal (The Notwist) in the remains of an abandoned lung sanatorium to capture inner destruction and coldness. It has what it takes to become a timeless classic. Songs like RAW, CELL, KINGDOM and DROP YOUR KNIVES radiate more dark and dystopic energy than all seasons of Black Mirror combined.
They are songs that originated in the demystified, gentrified, and art-free space known as "Berlin".
The only answer to society in its present state can be the most radical, most immediate, and most liberated art.
https://www.facebook.com/listentohope/
JUNODEF
Junodef was founded in Sweden and after becoming known on the underground scene in Malmö, they relocated to London and continues to explore post-rock through a unique, dark sound and creates a new perspective on what they call "post-death music".
Junodef travels from melodic and mysterious Portishead-like sounds to darker and heavier influences like Chelsea Wolfe and Emma Ruth Rundle, passing through the raw beauty of PJ Harvey and Warpaint on the way. Their music is built upon a mixture of precision and soundscapes, creating honest and hard-hitting songs bursting with emotion.
https://www.facebook.com/junodef/
FVRmind
FVRmind create atmospheric trip-hop with melancholic Scandinavian folk influences, carving out their own place in the music industry. With deep emotional vocals in dripping ambient reverb, FVRmind has been compared to the sounds of Björk, Massive Attack, FKA Twigs and Portishead.