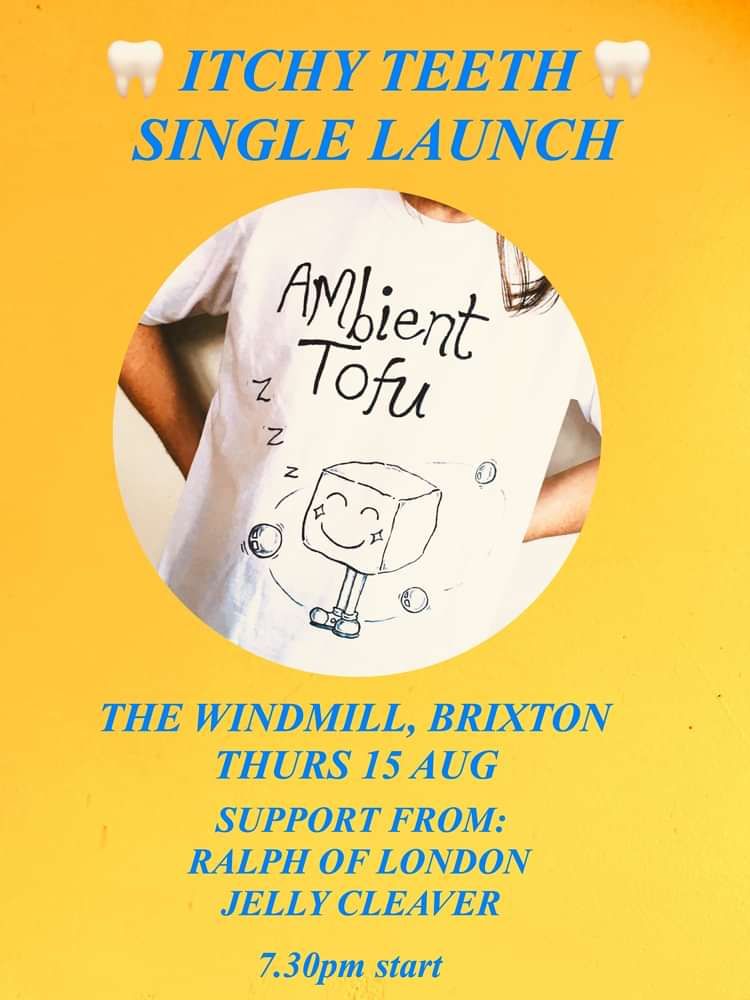 The Windmill presents:
Itchy Teeth, Ralph Of London, Jelly Cleaver
£5
Entry Requirements: 18+
ITCHY TEETH
Welcome to Itchy Teeth - an alternative band living in a car. A band is a bubble life and our music sounds like our life together. From London, there's guitar pop as well as some trippy and avant bits we love too. Itchy Teeth is about not being able to grow up, not being able to sleep, not being able to escape your parents, not being able to live without your mobile phone and not being able to stop. Our fans become our friends: we got some fenders, some fanzines and vinyls - we've got an orange drum kit. Who wants perfection when you can be freeeeee as free willy.
https://www.facebook.com/itchyteeth/
RALPH OF LONDON
R.O.L is a music spawned from the British pop undercurrent, galvanised into it's current form as a working live band in the north of France. Their sound is rooted in a DIY aesthetic, taking inspiration from the early work of artists such as Elliott Smith, Cass McCombs and Sparklehorse, composing melodically rich pop songs that underscore a subromantic lyrical narrative, in the vain of the social commentary of bands like Pulp and Sleaford Mods. The group bring together conventional instruments to produce an unconventional sonic tapestry, delivered with sincerity whilst definitely maintaining a sense of humour, highlighting the often uncomfortable realities of urban decadence, drawing material from the constant adaptation to social dynamics both at home and across the border.
Ralph had spent the majority of his time playing as a session drummer for various established artists including Scritti Politti, Go-Kart Mozart (Lawrence of Felt), and as a founding member of groups such as The Proper Ornaments, Ezra Bang & Hot Machine and Bank Of Joy. Since creating music under his own name ("Ralph Of London") he has put out a handful of online singles and in 2016 wrote and recorded his first full length album while on residency at the Gordon Burn Trust house in the wilderness of the Scottish countryside.
In February 2019, the Franco-British band released its first track Beautiful Nothing on Title Records. The boys released the song Hopeless Melody in May 2019: a single taken from the upcoming album expected by the end of the year.
https://www.youtube.com/watch?v=nlLJiEsD6jg
Bandcamp https://ralphoflondon.bandcamp.com/
https://www.ralphoflondon.com/
JELLY CLEAVER
Jelly Cleaver is a guitarist, producer and singer-songwriter based in South London, and has been called 'the next artist to make an impact on the London's Jazz Scene' by Supreme Standards. With an eclectic taste in music, Jelly is heavily involved in both the jazz and DIY/punk scenes in London. She's also an activist, and a strain of political dissent runs through her music.