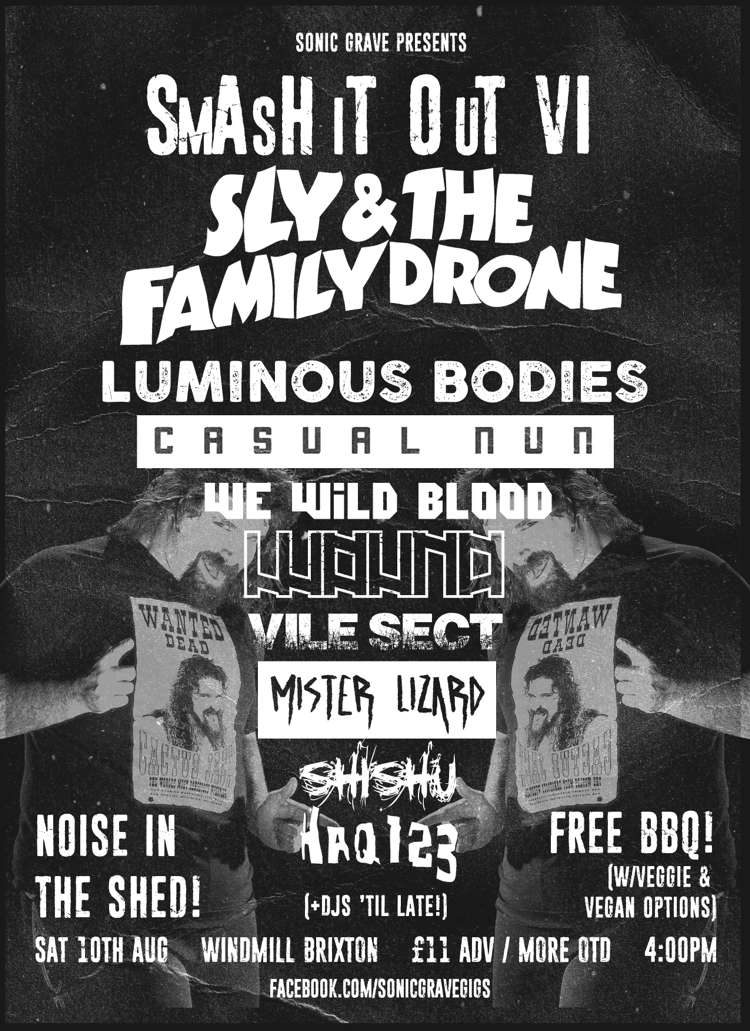 Sonic Grave presents:
SmAsH iT OUt VI w/Sly & The Family Drone + more
£11 adv
Entry Requirements: 18+
Buy Tickets
ṠḶẏ & Ṯḧḕ ḟḀṁḭḶẏ ḊṙṏṆḕ
There are only two types of people in the world: Those who love Sly & The Family Drone, and those who haven't spent enough time inhaling paint fumes behind a Wetherspoons. Having just released the brilliantly warped Gentle Persuaders LP, it's been far too long since the group brought their throbbing, riff-less noise insanity to the Windmill, and we're beyond excited to bring them back to headline Smash It Out.
https://familydrone.bandcamp.com/album/gentle-persuaders-2
Luminous Bodies
Another band who haven't visited our sonic home in what seems like forever. Fresh from supporting PigsX7 at their largest London show to date, the quintet's duel-drummer, acid-fried, Butthole Surfers-meets-Flipper-meets-mental breakdown maelstrom is a live experience like no other. You. Have. Been. Warned.
https://luminousbodies.bandcamp.com/
Casual Nun
The very first band to headline a Sonic Grave, and another that it's taken us criminally long to coerce back south of the River. From long from Psychedelic meanders to skull-splitting psych-punk ragers no one does it quite like the Americo-Greek foursome. They've promised us something extra special for Smash It Out, but we wouldn't want to spoil the surprise now, would we. https://casualnun.bandcamp.com/album/casual-nun-luminous-bodies
We Wild Blood
The first time we saw the East London trio at the Windmill they were wearing inside-out Michael Myers masks and creating a brain-throbbing din of kraut-y noise rock. And they've only gotten better since. We don't know what 'paranoiacore' is but we f**kin' love it
https://wewildblood.bandcamp.com/album/blood-money
Mister Lizard
Somewhere between The Locust, Brutal Truth and a rodeo clown chewing glass and razor blades lies London/Brighton based nutters Mister Lizard. Or as they say themselves: "Complete and utter nonsense. With blast beats." https://misterlizard.bandcamp.com/track/slidey-boi
WOUND
Croydon's heaviest band.
https://www.facebook.com/Woundband/
VILE SECT
Righteous, monolithic dirge from the second city that is so desperately pissed off you can almost taste the nihilism bleeding through your speakers. Think Weaponised feedback, collapsing tank factories and early Converge. https://vilesect.bandcamp.com/releases
SHISHU
Semi-mysterious grinding, noise-laden, d-beat riff-punx from Wales that sound like a cider-fuelled knife fight in Repulsion's kitchen. Seriously not to be missed.
https://shishuwithaline.bandcamp.com/releases
Haq123
Two under 12's and one of Evil Blizzard's multiple bassists summoning riff-heavy dirge with lyrics about people with horrible faces. And if that doesn't sound up your street then you're probably in the wrong page. First London show after playing this year's Supernormal festival.
https://haq123.bandcamp.com/album/heavy-mess
MORE TBA!

NOISE IN THE SHED

FREE BBQ!

DJs UNTIL LATE