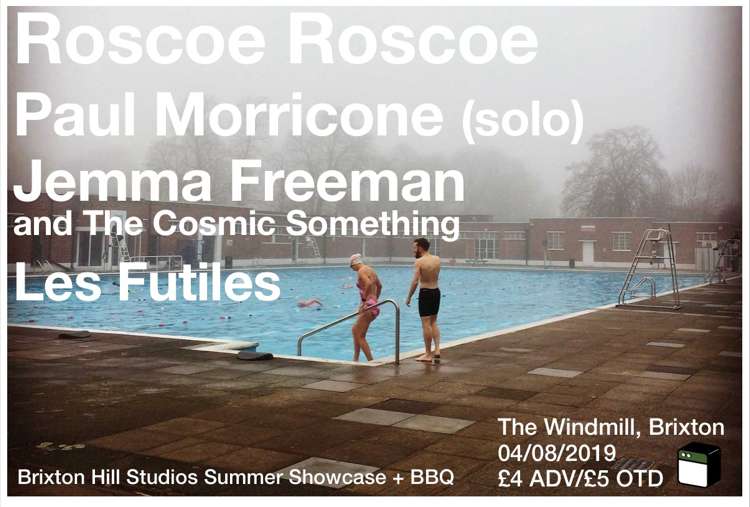 The Windmill presents:
Brixton Hill Studios Summer Showcase + BBQ
£4 adv / £5 otd
Entry Requirements: 18+
Summer time gig and BBQ brought to you by the good people at Brixton Hill Studios featuring a diverse range of bands and artists plus a BBQ'd dinner thrown in too (including veg and vegan options).
Roscoe Roscoe
4 piece, Psychedelic band from the realms of East London.
https://soundcloud.com/roscoeroscoe
Paul Morricone (solo)
Frontman of The Scaramanga Six steps out into the limelight with his debut solo effort, The Dissolving Man which features the BBC Radio 6 Music Recommends single of the day "Estranged".
https://paulmorricone.bandcamp.com
Jemma Freeman and The Cosmic Something
Recent signings to Trapped Animal Records. Cosmic songs about introversion, hidden identities and empowering yourself in the face of adversity, knee slides and dreaming in another dimension. We are Jemma Freeman, Mark Estall, Hamilton Lee and Jason Ribeiro
https://jemmafreemanandthecosmicsomething.bandcamp.com/releases
Les Futiles
Nous sommes les enfants mauvais, Les Futiles.
https://www.facebook.com/pg/LesFutiles
Sound Picture Show
https://www.facebook.com/soundpictureshow/
£4 adv / £5 otd