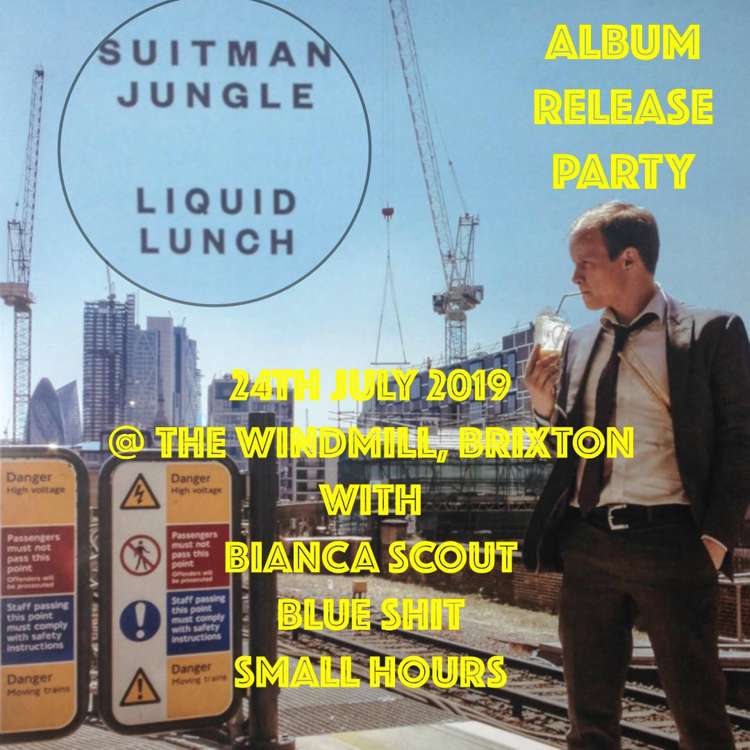 The Windmill presents:
Suitman Jungle - album launch party
£4adv/£5door
Entry Requirements: 18+
SUITMAN JUNGLE
After two sold-out limited 12" singles on @tapeclubrecords, Suitman Jungle is now ready to drop Liquid Lunch, a 14-track record inspired by daily routines. Here's what Suitman Jungle says about the release:
"'Liquid Lunch' was covertly produced in the OpenOffice spreadsheet processor and mastered in a cracked version of Microsoft's PowerPoint. Track four, 'Nil Cash Option', is a recording of two gig-goers who gatecrashed Brighton's Great Escape Festival by pretending to be accountants. Track six, 'Lift Going Up', is about how some days one's mood can be better or worse than on other days."
Suitman plays live jungle and drum & bass mash-ups using a stand-up cocktail kit and SPD-SX.
https://www.facebook.com/suitmanjungle/
BIANCA SCOUT
https://biancascout.bandcamp.com/
https://www.facebook.com/biancagirlscout/
BLUE SHIT
"Blue Shit - Don't worry, she'll be dressed in blue"
SMALL HOURS
Alex Mills and Alex Patten are the exhilarating duo Small Hours. Formed in the elasticated moments of a post-rave epiphany, they explore the state between hypnosis and conscious-thought, uninterrupted by the everyday pressures of ego and stress. Their left-of-center electronic-pop incorporates bass music, skeletal guitar riffs, alt-RNB, and irresistible honeyed vocals.
Small Hours' music comes developed from many years of both Alex's working with the industry's top acts, from Tricky and Basement Jaxx (Mills) to Fine Print and Michael Kiwanuka (Patten).
After a triumphant tour supporting Elder Island in early 2018, Small Hours released "minimalist alt-pop wonder" (The Line Of Best Fit Song Of The Day) debut single 'Shoe Box', written with Marc Pell of Micachu & The Shapes, which swiftly gained over 300,000 streams on Spotify.
With three EPs in the making, Small Hours are set to make an impact in 2019, taking listeners on a journey from deep reverie to existential euphoria and back again.