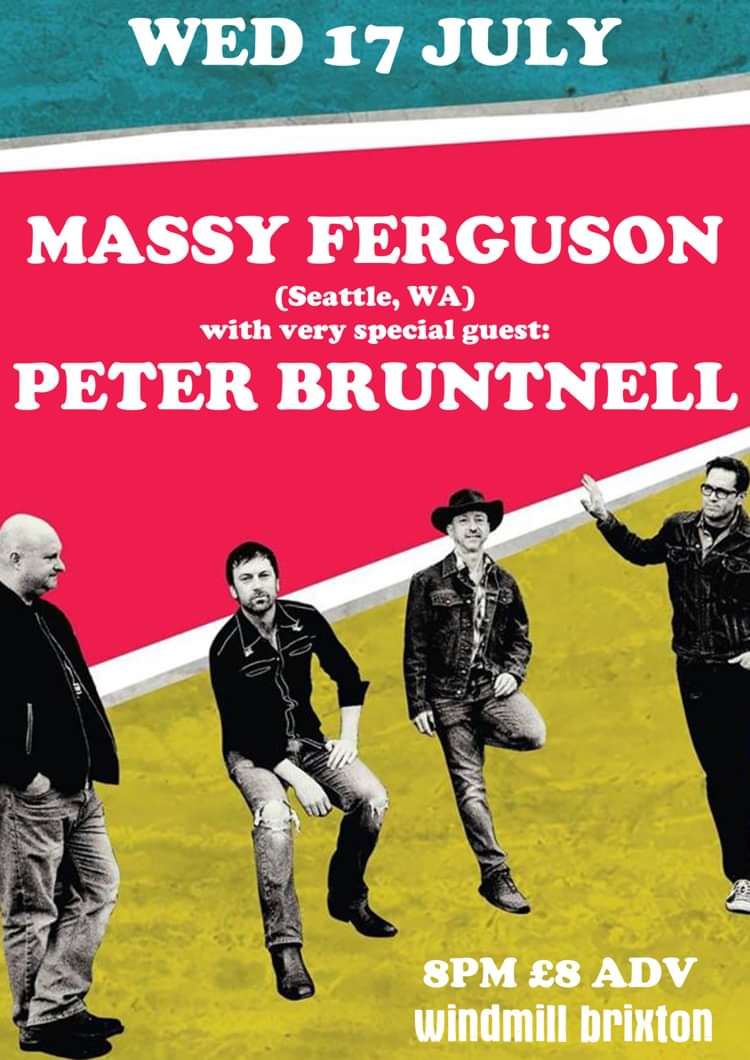 The Windmill presents:
Massy Ferguson (USA) + Peter Bruntnell
£8adv
Entry Requirements: 18+
An alt.country (whatever that is) special!
MASSY FERGUSON (Seattle, WA)
"Massy Ferguson have put together an excellent mix of rock and country twang on their very impressive debut record" -- John Richards , KEXP Morning Show Host
Massy Ferguson is a bar band in the best sense -- not a band relegated to bars because it will never rise higher, but a band that plays music perfectly suited to dark, crowded rooms in which there's at least a possibility of a beer glass smashing against a wall.
For more than a dozen years, Massy Ferguson have proudly planted their boots on both sides of the country-rock divide, carving out their own brand of amplifed Americana along the way. Based in Seattle, they've become international torchbearers of a sound that's distinctly American, with a touring history that spans nine different countries. On their fifth album, Great Divides, they double down on their rock & roll roots, mixing bar-band twang with raw, guitar-driven bang. Gluing those sounds together is the songwriting partnership of bass-playing frontman Ethan Anderson and guitarist Adam Monda, whose songs spin stories of small-town adolescence, big-city adulthood, and the long miles of highway that stretch between.
https://www.massyfergusonband.com/home
PETER BRUNTNELL
New album "King of Madrid" out now!
"If we lived in a just world, Peter Bruntnell would by now be in the middle of his third or fourth global arena tour, his biggest worry working out how to courier his latest armful of Grammy awards back to the UK so his butler could have them installed in the west wing of mansion by the time he got home. Instead, the Kingston upon Thames-based, Devon-raised, New Zealand-born singer-songwriter spent February playing a tour of venues that included the front room of a terraced house. His new album, Nos Da Comrade, features lead single Mr Sunshine, a rollicking deconstruction of a certain US presidential candidate and a golf course that destroyed a Scottish fishing community. The ninth album of an uncommonly excellent recording career, it will be released – alas, all too fittingly – on April Fools' Day.
The fools, of course, are the vast majority of the world's listening public, who have stubbornly refused to pay much attention to Bruntnell since the release of his debut LP more than 20 years ago. Ringing endorsements from the likes of REM's Peter Buck and Son Volt's Jay Farrar have been matched by rave reviews (Guardian Music contributor Keith Cameron, reviewing Bruntnell's third LP in NME, memorably wrote that "his songs should be taught in schools"). And the music really is exceptional – a canon of classically constructed, melodically rich, lyrically ingenious and emotionally, intellectually affecting songs that bears comparison with the all-time greats. Yet there appears to be almost nobody listening." - Angus Batey, The Guardian