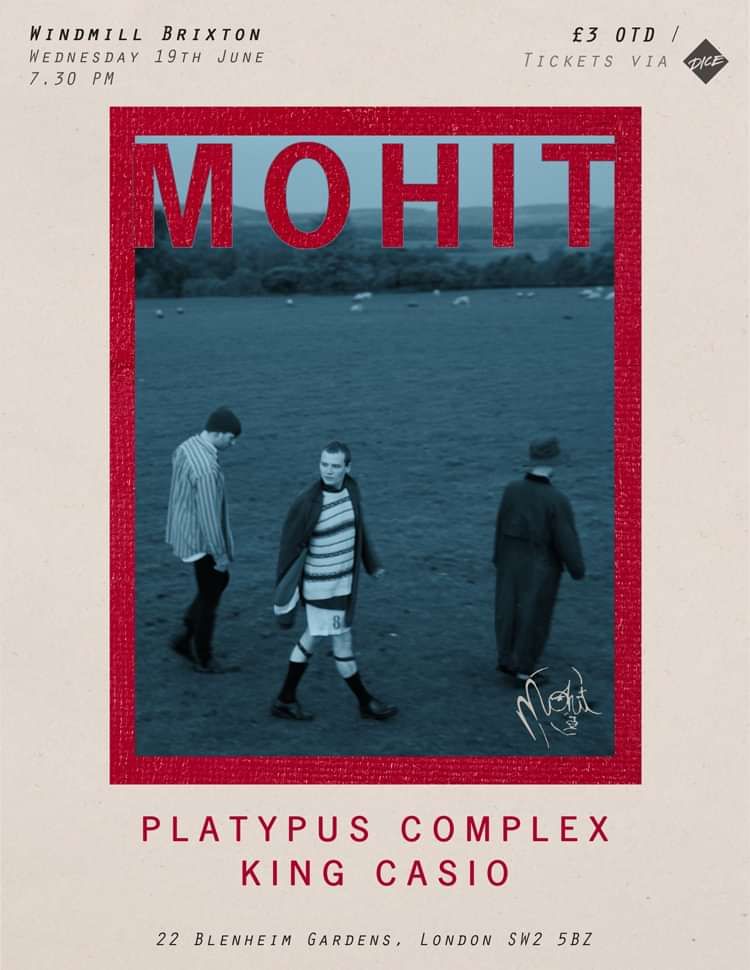 The Windmill presents:
MOHIT, Platypus Complex, King Casio
£3
Entry Requirements: 18+
19th June will mark an exciting return to Windmill Brixton for MOHIT, who played their earliest shows at this venue - this time topping the bill.
A month away from releasing their second single, they're still riding on their previous release 'Racek / Discover Another' which gained them spins at BBC 6 Music, WFUV, a headline at Rough Trade East, and a UK tour with Ought.
The next instalment is the very first song they recorded with stellar producer Marta Salogni (Bjork, YAK, Liars), which sparked months of recording sessions together.
They experiment with rich dynamics in their music - soundscapes created with a wash of guitar, silk bass, and towering drums. Vocal harmonies intertwine together, weaving in and out of earshot. Art Rock at it's most expressive.
"akin to a musical Dali" THE 405
Support comes from the wonderfully exciting *PLATYPUS COMPLEX *- an all female outfit of psychedelic explorers, who take your hand and whisk you away deep into their song. "Psych Latin Cumbia dreams" so they say ~
Not only that, we also have KING CASIO to open the night - made up of Aaron King, and the Swedish half of Francobollo. The trio craft the sleekest crooner tones to caress the face of London since the Nord made it's debut.
https://www.facebook.com/mohitmusique/
https://www.facebook.com/PlatypusComplex