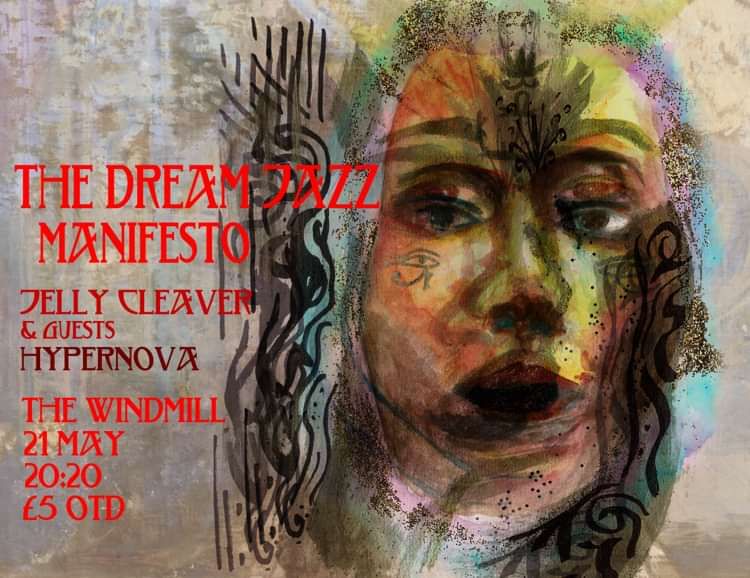 The Windmill presents:
Jelly Cleaver + Hypernova
£4adv/£5door
Entry Requirements: 18+
Jelly Cleaver |The Dream Jazz Manifesto Album Launch
It is hereby announced that on the evening of 21st May, JELLY CLEAVER shall be unveiling her newest creation 'The Dream Jazz Manifesto' and reimagining it for you live in front of your eyes. As the title suggests, 'Manifesto' indicates that this is music with a purpose; to inspire spiritual and social consciousness raising and community boogieing. However, the musical categorisation is a bit fluid; call it whatever you wish that has meaning to you, we shall call it 'Dream Jazz'. For this special evening she will be presenting an extended band and special guests. Come be slightly radicalised and question the nature of existence together in a nice safe space.
Preceding her will be HYPERNOVA, a collective of young jazz musicians who include members of the bands Invariance, Where Pathways Meet and Nihilism. They draw their influences from a plethora of musical styles including: renaissance, be-bop, neo-classical, drill and reggae. As pioneers of the genres jazz drill and neo-bebop (bebop music infused with Bachian harmony), they fuse the traditional with the music of today. They do not just stop at music, as they draw from philosophy, sociology and neuroscience to impart wisdom on their audiences in a fashion that is simultaneously intellectual and primitive. Though this seems oxymoronic, their band leader Deji Ijishakin a.k.a. Xvngo, uses his prowess as an orator to engage the audience in a theatrical manner. All of this is complemented with the nihilistic comedy that all of the band partake in whilst on stage.
More surprises might occur. It is not in their nature to be fore-known.