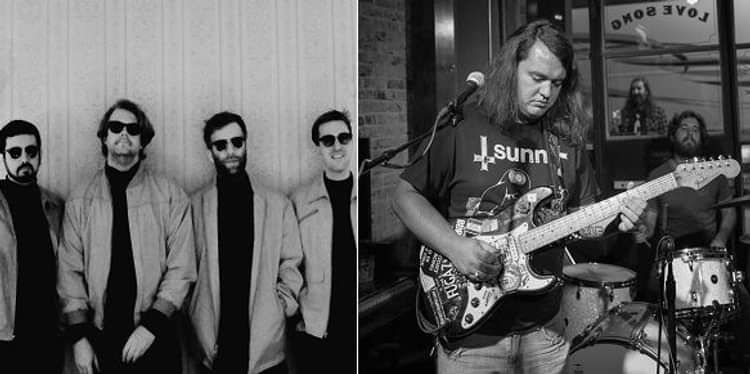 Bad Paintings presents:
Meseroles + Dylan Rodrigue, Brent Newman, Fell & The Fallen
£4adv/£5door
Entry Requirements: 18+
MESEROLES
Born in Brooklyn, then raised in Brixton, Meseroles was started by Jimmy Eaton out of the former Brooklyn Brewery on the edge of Williamsburg. The bands first two releases The Tourist and The English Dream showcase the band's powerful, modern transatlantic sound, drawing comparison to greats like Big Star, Tom Petty and Teenage Fanclub,
After the fall of his American dream, Jimmy relocated to his native London, calling on his songwriting partner Daniel Fell (The Teamsters, Ligers). They wrote songs about dive bars, wide eyed wonder, death, infidelity, break-ups and breakdowns. There wasn't much room for fiction.
They then recruited multi instrumentalist Nick Frater (Great Sheiks, Love), and drummer extraordinaire Ben Handysides. The four-piece recorded in an old listed building during the long hot summer of 2018 and shut themselves away, turning their tales of late night New York City into an unashamedly raucous and heartfelt record.
'Twinstar' will be Meseroles third in a series of monthly releases prior to the release of their debut album - due summer 2019.
https://www.facebook.com/meseroles/
DYLAN RODRIGUE (USA)
Debut album Cat's Game released 25th Jan on Bad Paintings.
'Beautifully Intense, Eloquent and Just the Right Side of Melancholic Singer-Songwriter.......Who knows if Dylan Rodrigue will go on to win a Grammy or earn a million dollars from his music; but what I do know is that everyone who buys Cat's Game will cherish it for life' - The Rocking Magpie
'it's the intricate use of melodies that really sets this apart from anyone else. The songs are crafted with precision and there's nothing there which doesn't need to be' - Fear and Loathing
'power-pop infectiousness with emotive indie-folk in the vein of Elliott Smith and Conor Oburst' – Obscure Sound
'reared in a yoga-based community in Northern California, educated at CalArts (where he earned a degree in songwriting and avante-garde composition) and found inspiration in the work of artists such as the Beatles, Fugazi, the Pixies, Elliott Smith and Vic Chesnutt' - Buzzbands LA
'brings to mind some of Elliott Smith's darker simplicity whilst courting the outsider fragility of an earlier Ariel Pink' – God Is In The TV Zine
'someone we should all keep and an ear and an eye out for' - Gary Crowley BBC Radio
'His work runs the gamut from solemn folk to fuzz rock. Rodrigue has gone from everyone else's guitar-man to leader of the band, and we like what we hear' - American Standard Time (KEXP)
Dylan Rodrigue's music has always been a journey, exploring all genres and musical forms. Dylan was raised in small yoga-based intentional community in Northern California . . . a very quiet and peaceful place with a quiet and peaceful music scene. This all changed at the age of seven when Dylan's father snuck a copy of Who's Next into his bedroom. This sparked a passionate exploration of music from the Beatles to Fugazi, the Pixies, Elliott Smith and Vic Chesnutt. He began playing guitar and writing his own songs at age 8, studied classical guitar in high school, and eventually obtained a degree in songwriting and avante-garde composition at the California Institute of the Arts (CalArts).
Dylan's professional career in L.A. has shown the same sense of adventure. As a talented guitarist and singer, he has performed with alt-country bands (currently with Sie Sie Benhoff), complex math rock/hardcore bands, and a 13-piece travelling vaudeville band! With the release of his debut album Cat's Game, Dylan returns to his true passion . . . sharing his own music.
Cat's Game is the follow up to the four song Scrimp EP released in August 2018 and it shows the full range of Dylan Rodrigue's musical pallet. His deeply personal lyrics are presented in a variety of musical settings, from stripped down acoustic folk, Neil Young inspired electric guitar rock, and Stooges-esque punk.
Dylan Rodrigue's musical journey is wide, varied and unpredictable . . . and it's definitely a trip worth taking!
BRENT NEWMAN & THE BROKEN ARROWS
Five piece anglo-Canadian Americana
After a few years live hiatus, having moved back to Canada, Brent & The Broken Arrows are back and will be playing material from their last album 'Hot Blood' amongst other new things.
Think rockabilly Neil Young meets Queens Of The Stone Age.
https://www.facebook.com/brentnewmanandthebrokenarrows/
FELL AND THE FALLEN
https://www.facebook.com/fellandthefallen/