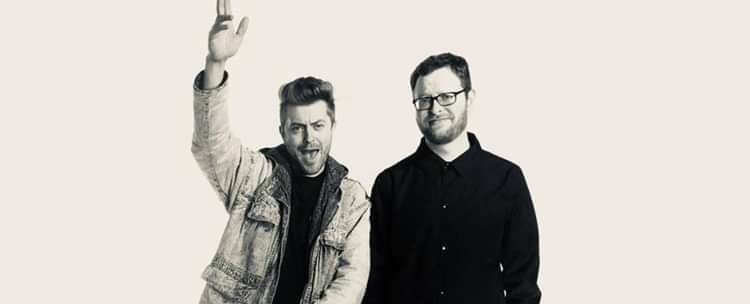 The Cypher Lounge presents:
Dr Syntax & Pete Cannon + many more
£6adv/£8door
Entry Requirements: 18+
Buy Tickets
Following nicely on from January's sold out event, The Cypher Lounge returns for their second installment of 2019, with another super duper line up!!
Full line up announcement over the coming days, plus some special surprise guests on the night!!
DR SYNTAX & PETE CANNON
Dr Syntax (MC) and Pete Cannon (producer/DJ/MC) have been making music and touring together since 2010. They are well renowned for smashing shows all over the UK, and at festivals such as Boomtown Fair (UK) and Outlook (Croatia). Both reputed solo artists in their own right, their collaborative releases 'Killer Combo', 'Elaborate Anoraks','The Tonic' and their new album 'Let's Talk' combine witty, insightful lyricism and gob-smackingly banging beats to great effect. While their sound is rooted in hip hop for the most part, their riotous live performances showcase their versatility with ventures into bass music, old skool hardcore and jungle. Known for his unique style and deep vocal tone, Dr Syntax has been a highly regarded name in the UK HipHop scene since he appeared on Foreign Beggars' 'Asylum Speakers' album in 2004. Since then he has released numerous albums including his classic 2007 debut 'Self Taught', and 'Scene Stealers', his 2008 collaboration with Skrein as Skreintax. More recently, his name was synonymous with acclaimed Manchester band The Mouse Outfit. He appeared on their albums 'Escape Music' and 'Step Steadier', and toured with them relentlessly across the UK and Europe from 2012-2017.
Pete Cannon is an incredibly prolific and versatile producer, having collaborated with Action Bronson, Guilty Simpson, Del The Funky Homosapien, Rizzle Kicks and Lunar C to name a few. He has worked extensively with UK hip hop's best known label, High Focus, notably producing tracks for Dirty Dike, Jam Baxter and Verb T, and entirely producing the 'High Focus Remixes' album. As versatile and skilled behind the decks as in the studio, his jungle sets have become the stuff of legend. His forays into jungle and drum and bass have recently found him a new audience, producing for Hospital Records' artist Inja, with many more releases scheduled
Get advance tickets while you still can. Once we sell out there will be no tickets available on the door like this month, so get in quick!
Hosted by Kissy K, DJs Downstroke & Tyni