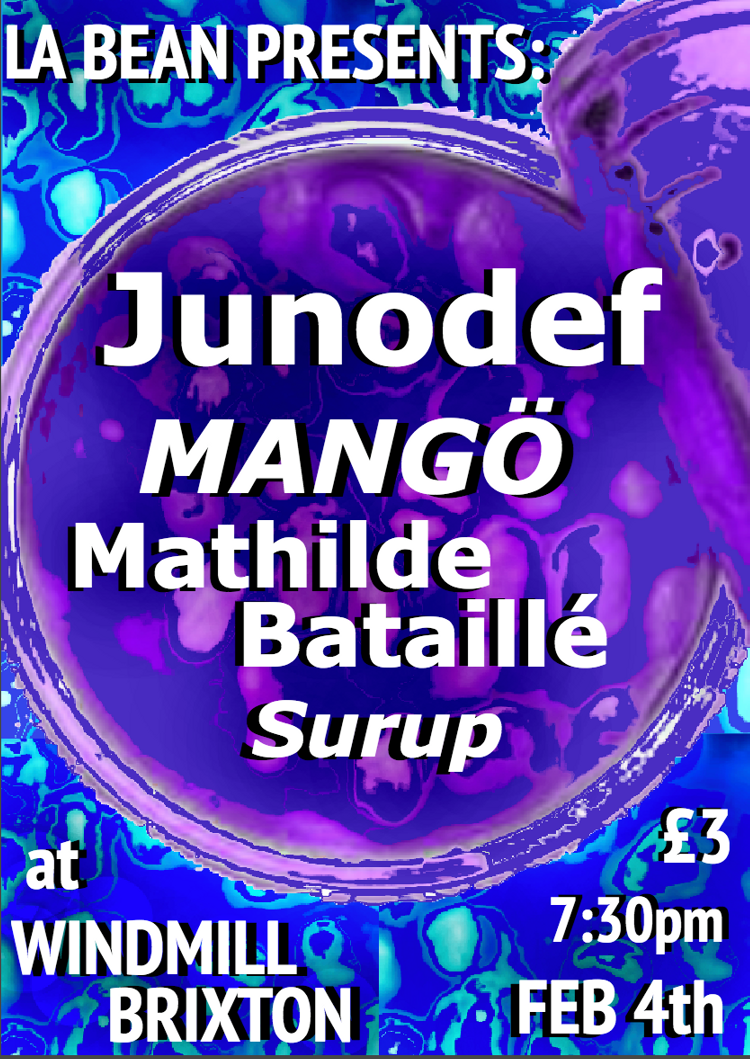 La Bean presents:
Junodef, Mangö, Mathilde Bataillé, Surup
£3
Entry Requirements: 18+
A tasty night of tasty bands!!!!
JUNODEF
Junodef was founded in Sweden by Tyra Örnberg and Karin Grönkvist in 2015, and was joined by drummer Norea Persson and pianist Rode Grönkvist later the same year. After becoming known on the underground scene in Malmö, they relocated to London and continues to explore post-rock through a unique, dark sound and creates a new perspective on what they call "post-death music". Junodef travels from melodic and mysterious Portishead-like sounds to darker and heavier influences like Chelsea Wolfe and Emma Ruth Rundle, passing through the raw beauty of PJ Harvey and Warpaint on the way. Their music is built upon a mixture of precision and soundscapes, creating honest and hard-hitting songs bursting with emotion.
https://www.facebook.com/junodef/
MANGÖ
So juicy, so sweet.
https://www.facebook.com/mangojuicy/
MATHILDE BATAILLÉ
Smooth, sophisticated, French.
https://www.facebook.com/mathildebat/
SURUP
Sweet, sticky, slimy, warm.