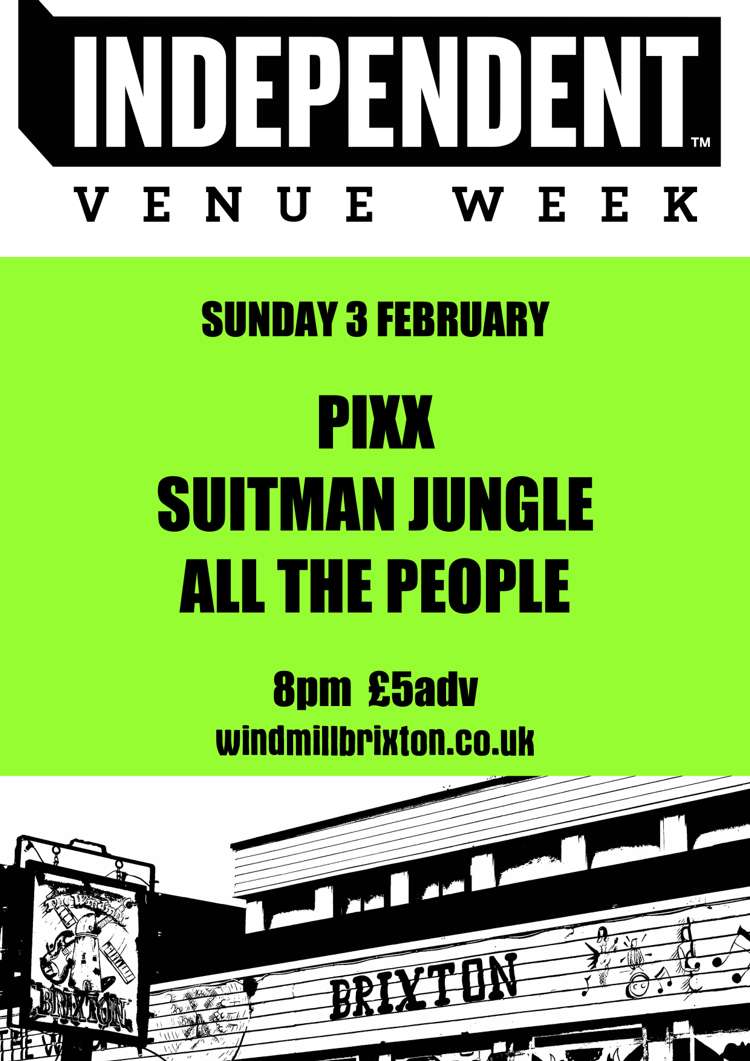 Windmill Brixton and Independent Venue Week presents:
#IVW19 Day 7: Pixx + Suitman Jungle + All The People
£5
Entry Requirements: 18+
It's the final night of Independent Venue Week 2019 and we're closing it with a big party featuring three up-for-it acts and Femme Collective DJs.
PIXX
Following on from her 2017 debut album on 4AD, which a 5 star review in the Guardian declared "a riveting and refreshing debut, which balances weirdness with sweet and soothing electropop joy", Pixx (aka Hannah Rodgers) is back with a new band and new songs from her forthcoming second album to be released later this year.
SUITMAN JUNGLE
Suitman plays live jungle and drum & bass mash-ups using a stand-up cocktail kit and SPD-SX.
Suitman is also the drummer in Micachu & The Shapes and Mount Kimbie so you know this'll be something special.
https://soundcloud.com/suitmanjungle
https://www.youtube.com/watch?v=L3EQFWzyuuk
https://www.facebook.com/suitmanjungle/
ALL THE PEOPLE
Brothers Ashley and Simon Arnold and Singer Curtis Dennie are 'All The People'. Mixing analog synth's with live drums and vocals, inspired by the psychedelic production of the 1970's with a deep love of dance music, electronica and soul.
'Imagine a more soulful Disclosure, or perhaps Hot Chip if they'd spent more time at FWD - sluicing together club sounds and pop nous, we simply can't get enough of All The People.' CLASH
'A little bit of light in the dark, with iridescent synths bubbling up under Dennie's heart-to-heart vocals, making it a slug of melancholy soul. ' DUMMY
---
Independent Venue Week, now in its sixth year, is a nationwide celebration of the spirit of independence & culture of live music and venues.
We're super pleased to be a part of it and have put together a week long programme of bands the venue holds dear.
More info: follow #IVW19 or visit the website: