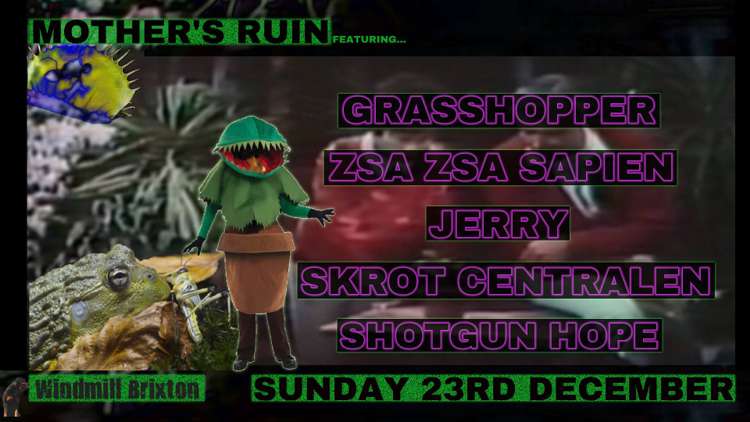 Mother's Ruin presents:
Grasshopper/Zsa Zsa Sapien/Jerry/Skrot Centralen/Shotgun Hope
£4/£3 students/unwaged
Entry Requirements: 18+
The festive season can hold on to it's bloody horses for one more merry minute to make way for a night of synth rock, industrial noise-pop, post-punk and bastard music offerings, pipped to the post for the last Mother's Ruin of 2018.
Real good tidings provided courtesy of:
GRASSHOPPER
Pounding post-punk & ethereal goth-wave bollox.
Based in Brighton/Manchester, grasshopper have recently supported Grant Hart (ex Husker Du/Nova Mob), Brix & The Extricated, Sonic Jesus and The Orielles to name a few. The band's two self-released EPs have been bestsellers in Resident Records (Brighton), and their debut 7" single has been played frequently on Gideon Coe and Steve Lamacq's BBC 6 Music shows.
"grasshopper's debut 7" is keen to show its passion for post-punk... opening with a PiL bass-line before a gothy, junior Nick Cave-ish vocal arrives... the A-side, "Nothing Like Us", has a jangling appeal, with hints of early Eighties Banshees and Psychedelic Furs flitting about" - The Arts Desk (December 2017)
https://www.facebook.com/bandgrasshopper/
https://soundcloud.com/bandgrasshopper/pre-teen-has-been
http://louderthanwar.com/grasshopper-tim-peaks-stage-kendal-calling-live-review/
---
ZSA ZSA SAPIEN & THE NOBODIES
Vocalist and long sighted futurist from South London's true finest Meatraffle & SCUD FM creating far left, absurdist, experimental avant pop.
https://www.facebook.com/Zsa-Zsa-Sapien-134779209929421/
https://www.youtube.com/watch?v=A2O3jWThSJE
https://soundcloud.com/mutado-pintado/the-times-are-a-table
---
JERRY
Wavvant-Garde
Jerry have establish themselves in the growing post-punk scene by playing alongside bands such as DUDS, Autobahn, Rapid Tan, The Staches and Haze. Their debut single "Late Hugh" was recently featured as BBC Introducing Track of the Week.
https://www.facebook.com/JerryUKBand/
https://open.spotify.com/track/6PR0BoKN6PYzjDKYTUgvDo?si=-EGRbcJkTsCpwWorVT85ng
---
SKROT CENTRALEN
Live from the mind of the devil, Matt Drage* and Gavin Tomlin* combine to create this industrial noise pop duo from the depths of hell (Norwood).
https://soundcloud.com/user-487915628/arachnophobia
https://www.youtube.com/watch?v=8k4vpQdbJJ0
---
SHOTGUN HOPE
WOnk-POP
If you're getting too big for your boots, hold steady Shotgun Hope aka Alan Trashmouth Records is here to help Kasabian save guitar music/academic humanities by way of ruinous forces.
https://shotgunhope.bandcamp.com/
https://louderthanwar.com/shotgun-hope-shake-well-album-review/