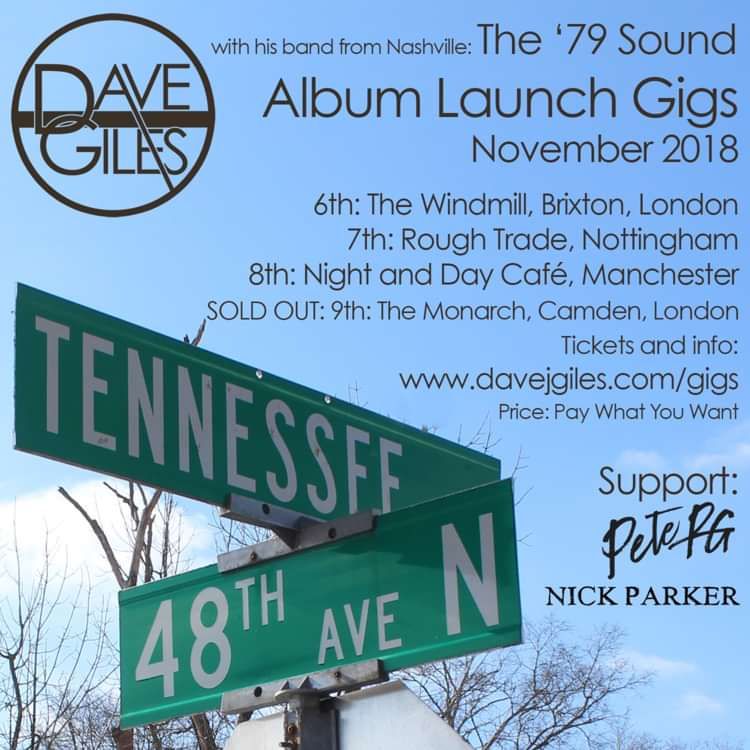 The Windmill presents:
Dave Giles + Pete RG (USA) + Nick Parker
Pay What You Want
Entry Requirements: 18+
Buy Tickets
The album, 'Tennessee and 48th' will be out on 2nd November, so to celebrate Dave is putting on four gigs in England and the musicians who played on the album in Nashville are coming over to play with him, featuring Kevin Haaland on lead guitar, Adam Kury on bass, Deena Bistodeau on fiddle and Dean Dichoso on guitar, keys and glock. Unfortunately we're unable to get the drummer Jared, but instead we have Dave Krusen who is a Rock n Roll Hall of Famer for drumming with Pearl Jam.
https://www.facebook.com/davejgilesmusic/
Support is from Pete RG (from the US) and Nick Parker.
https://www.facebook.com/PeteRGmusic/
Dave says Pay What You Want....
The big risk here is that it's obviously not cheap to get these people over from America, yet I'm still doing these shows as Pay What You Want. If you can afford to pay, then I'm asking you to think about how much you'd be willing to pay to see a band of musicians from the US who are just ridiculously good at what they do. If you can't afford much or anything, then of course I still want you there, but if you do happen to find some money down the back of a sofa, there'll be a bucket at the gigs for donations, and every penny is going to make a difference.