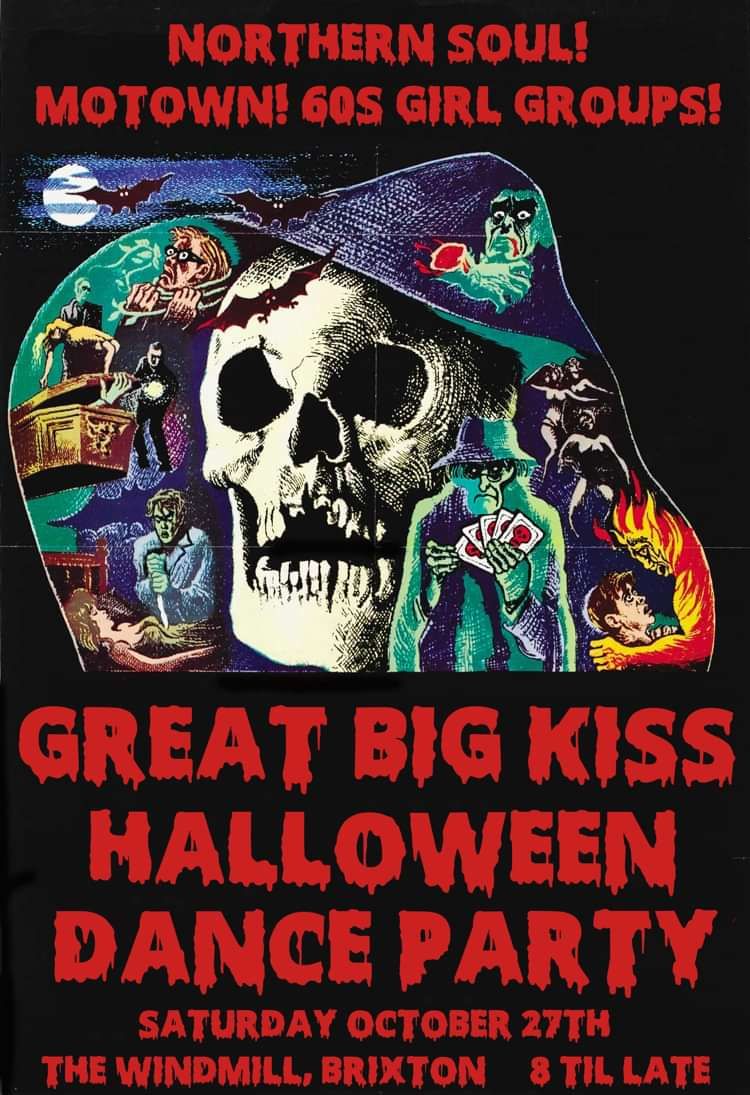 Great Big Kiss presents:
Great Big Kiss Halloween Party
£6adv
Entry Requirements: 18+
Buy Tickets
Great Big Kiss is back at The Windmill for their yearly Halloween session of spooky soul, monstrous Motown, and ghoulish girl groups, with some graveyard smashes thrown in for good measure. If you'd like to dress up, you're more than welcome. If you'd rather come in your usual stylish attire, that's fine too. Come one, come all!
We play:
Sugar Pie DeSanto * The Shangri-Las * Jackie Wilson * Dusty Springfield * Chuck Berry * Gloria Jones * Ike And Tina Turner * The Supremes * Pat Powdrill * Mamie Galore * LaVern Baker * Big Mama Thornton * Stevie Wonder Aretha Franklin * Richard Berry And The Pharoahs * The Del-Vikings * The Silhouettes * Little Richard * Nancy Sinatra * Del Shannon * Ray Charles * Melba Moore * The Shirelles * Edwin Starr * Little Anthony And The Imperials Ruth Brown * Bo Diddley * The Orlons * Wanda Jackson * Otis Redding * Fats Domino and loads more...!
"Are you ready to lip sync to Aretha Franklin and Dusty Springfield until the early hours of the morning? If you are, get down to this stylish South London party for a night of Motown, northern soul, rock 'n' roll and some Halloween smashes for a perfect balance of 60s glamour and ghoulish ditties." - Dojo
"Bringing a classic hip-shaking vibe to a great venue in Brixton, Great Big Kiss are providing their usual mix of northern soul, Motown, 60s girl groups and rock'n'roll, with some graveyard smashes thrown in for good measure. This is a no nonsense knees-up for those that love to dance, so make sure your Halloween gear is mobile enough to cut it out there on the floor." - South London Club