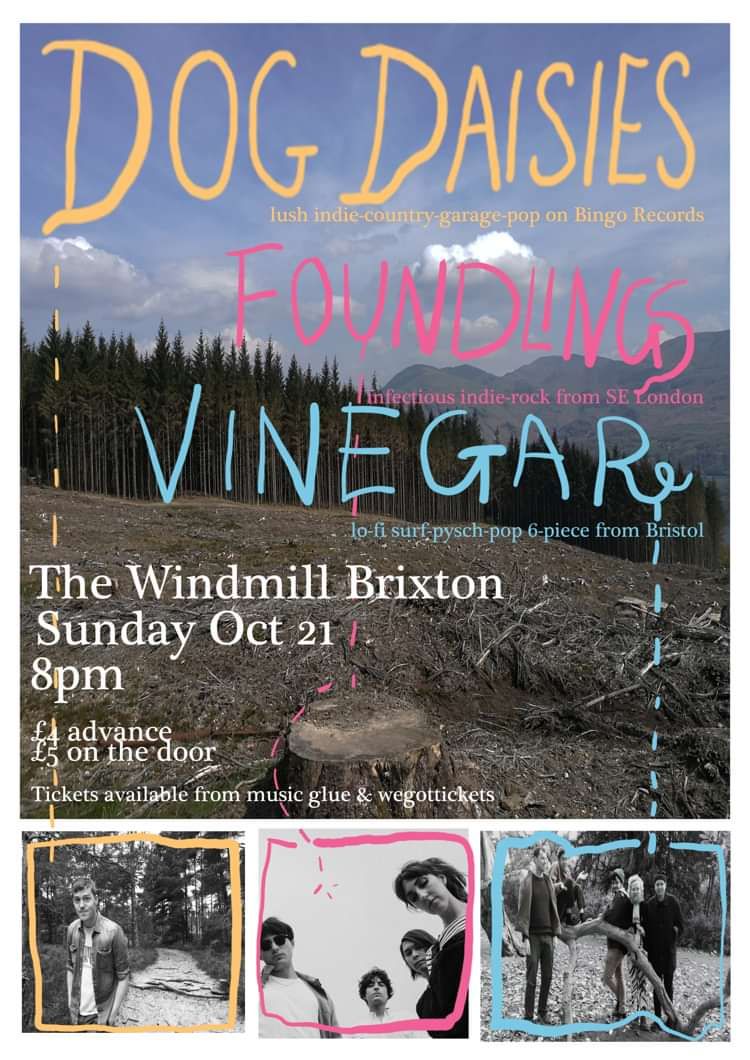 The Windmill presents:
Dog Daisies, Foundlings, Vinegar
£4adv/£5door
Entry Requirements: 18+
DOG DAISIES (lush indie-pop from Lancaster)
Dog Daisies is a lush new indie-country-garage-pop band from Lancaster. Inspired by midnight walks, 80's movies, motorways and the Lancashire coast, they are the latest signings to new indie super-label Bingo Records (Mr Ben & the Bens, Sundrift).
Their debut EP A River Runs Through it is out October 19th on postcard and digital download and precedes their first full length album due out on Bingo in Spring '19.
https://www.facebook.com/dogdaisiesmusic/
https://dogdaisies.bandcamp.com/
FOUNDLINGS (infectious indie-rock from South-East London)
Foundlings is a South-East London indie-rock band with a penchant for infectious hooks, driving guitars and haunting vocals. They self-released debut single 'Misery' / 'Your Sister' in March this year which was tipped by 6Music's Tom Robinson and received nationwide airplay. They have continued their profilic pace with a UK tour and another single release 'Horizon' in July.
https://www.facebook.com/foundlingsuk/
https://foundlings.bandcamp.com/
VINEGAR (lo-fi sufr-psych pop 6-piece from Bristol)
Bristol-based 6-piece who formed in early 2016 when Paul Morris and Robin Williams started writing songs together and they have grown and grown since then. They write jangly, reverby guitar driven songs which blur the line between shoegaze and pop, post-rock/psychadelia and straight ahead rock n roll, creating what the band term as lo-fi surf-psyche pop!
They released their debut LP 'Moths' in Summer 2018, a strange and beautiful collection reminiscent of Syd Barrett, Built to Spill, and Kurt Vile.