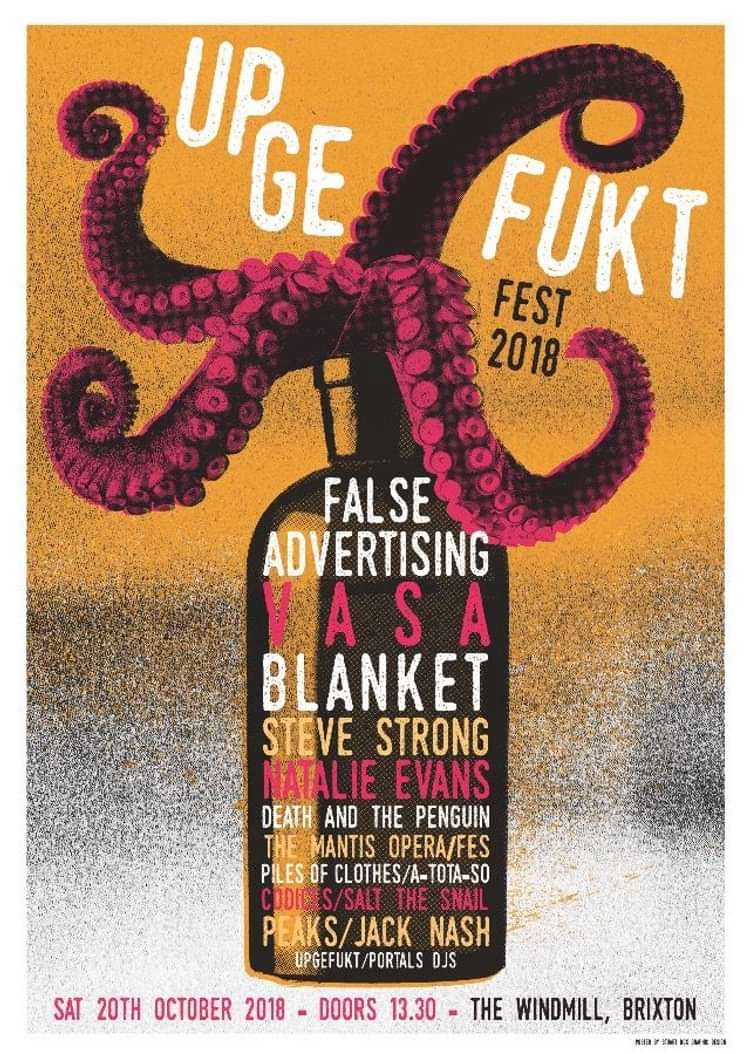 UPGEFUKT presents:
UPGEFUKT FEST 2018: False Advertising, VASA and many more
£12 door
Entry Requirements: 18+
Buy Tickets
UPGEFUKT FEST 2018, South London's brand new celebration of leftfield alternative, math and pop.
FALSE ADVERTISING
Fresh from their performance at Robert Smith's Meltdown Festival, the hotly-tipped Manchester trio will be bringing their sweet snarling hooks and fuzzed-up guitars to the Windmill Brixton on 20th October 2018.
https://www.facebook.com/falseadv/
VASA
Instrumental heavyweights from Glasgow. Since forming in October 2011, the quartet have seen a rush of support from the likes of The Independent, Clash Magazine and PROG Magazine. The band have completed numerous UK and European tours and have played with acts such as Russian Circles, This Will Destroy You, TTNG and Black Peaks.
https://www.facebook.com/VasaBand/
STEVE STRONG
A one man arsenal of beats, tapped guitar and lush, textural melodies. His music is as sparse as it is grandiose, as skeletal as it is layered, equal parts shimmering and pulsing...
https://www.facebook.com/SteveStrongUK/
NATALIE EVANS
A London based multi-instrumentalist and singer-songwriter. Fusing her virtuosic talent on guitar, harp and piano with finely tuned songwriting sensibilities, her songs glow with a rare self-contained grace, as she wraps her minimalist and deceptively simple lyrical lines in winning hooks and harmonies.
https://natalieevansmusic.bandcamp.com
DEATH AND THE PENGUIN
South London locals with a unique brand of off-kilter alternative tinged with math, jazz and electronica. 2018 is a big year for the band, with an extensive UK tour already under their belt, and the release of their debut album and an ArcTanGent Festival performance just on the horizon...
https://datpmusic.bandcamp.com/
blanket
Blackpool cinematic-rock band, touted by the likes of Kerrang! & BBC Radio 1 Rock Show, who released their stunning debut album "How To Let Go" via Music For Nations (Sony) in May 2018.
https://www.facebook.com/blanketsounds/
a-tota-so
A noisy math/grunge band from Nottingham featuring members of Alright the Captain and Cheap Jazz. Formed in September 2016 the band have toured all over the UK and mainland Europe. Their self-titled debut album is set for release in September 2018.
https://www.facebook.com/atotaso/
THE MANTIS OPERA
Experimental, avant garde rockers based in London. The band combine delicate melodies, complex rhythms with progressive electronic arrangements. They draw influences from a diverse array of artists from the likes of Deerhoof to Portishead.
https://mantisopera.bandcamp.com
https://www.facebook.com/themantisopera/
FES uk
A 3 piece math-pop band based in Peterborough and Leeds. Formed in 2016, the band have quickly established a name for themselves with their frantic stage show, slick tempo changes and repulsively catchy math pop melodies.
https://www.facebook.com/FESuk/
PILES OF CLOTHES
The musical outlet of Leeds-based songwriter Andy Crowder. For fans of acoustic guitars, vocal harmonies and self-deprecating songwriting.
https://www.facebook.com/PilesOfClothes/
http://www.pilesofclothes.bandcamp.com/
SALT THE SNAIL
Having doused themselves in beverage and donned wrestling masks in their respective videos, the Liverpool trio's collision of raw punk power and scuzzy grunge filth is scarcely delivered with a straight face. Their penchant for fun has quickly established them among the UK underground's liveliest live acts.
https://www.facebook.com/SalttheSnailORIGINAL/
CODICES
Formed in March 2017, this London four-piece has already taken the experimental scene by storm. They've taken their unique blend of technical math rock, gnarly riffs and post rock experimentation all over the UK, most recently supporting Memory of Elephants on the May 2018 tour.
https://www.facebook.com/codicesmusic/
*JACK NASH *
An American/Portuguese solo artist, currently living in Bristol, who plays beautiful noodley acoustic guitar.
https://jacknash.bandcamp.com/
PEAKS
The brain child of Manchester based songwriter Ben Forrester, predominately known as one half of riff-rock outfit Bad Grammar. Peaks combines expansive, post-rock guitar loops and sparkling pop melodies with an early 90's emo twist.
https://www.facebook.com/peakspeakspeaks/