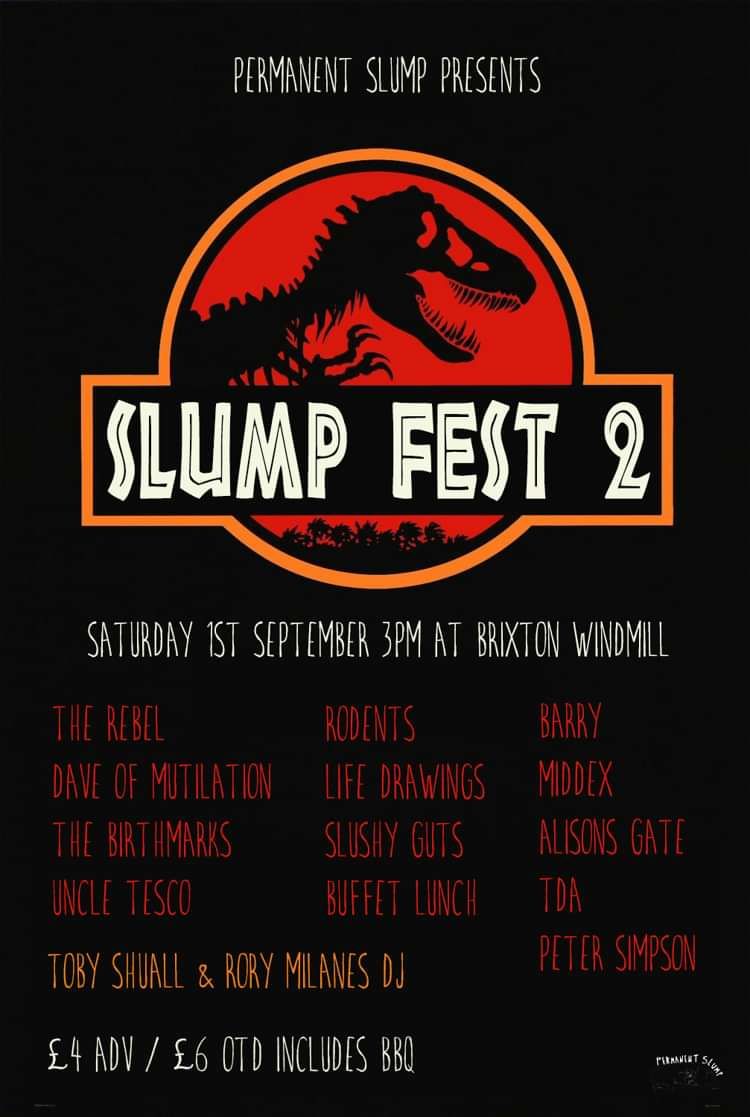 Permanent Slump presents:
Slumpfest #2
£4adv/£6door
Entry Requirements: 18+
Buy Tickets
THE REBEL
Anarchic cricket enthusiast.
THE BIRTHMARKS
Out of the smelly ashes of Sex Hands came this Manchester gawk rawk 5 piece, now featuring keys from PS's very own releasee TDA. Hot Cheddar.
https://thebirthmarks.bandcamp.com/
UNCLE TESC)
Lamenting Croydon underpasses and blue giant related consumer difficulties. Gary Numan vs Country Teasers.
https://soundcloud.com/user-426511190/croydon-underpass
LIFE DRAWINGS
. Recently released s/t tape displays locking rhythms reminiscent of late 90's art rockers we all know and love.
RODENTS
PS regular naughty boiz, always getting up to no good with their East London Via East Dulwich cockle picking. Also now with added keys from aficionado.co.uk and Mother of Ruin Tara.
https://www.youtube.com/watch?v=vfJbR9ZUwOU
RAINHAM SHEDS
Post-punk all female maximum art-core on a primitive tip. Conceptual skronk noise. They sing about theorists, Art Stars, shit jobs, mega-banter, sex with furniture and reminding themselves that he's not her dad.
https://soundcloud.com/permanentslump/you-what
SKUSHY GUTS
Stephen Keane's long time Tooting bedroom project turned band in-between walking big dogs. Featuring family members of Dignan Porch. Lo-fi Hi-Fi No-Fi
BARRY
Band - Bart, Mark, Helen and Kathy inspired by certain strains of Australian guitar pop jangle their way through the laptop scunts of current London.
MIDDEX
Take a musical trip through the pastures of Yiewsley and West Drayton with Tome Record's head honcho Kevin Hendrick.
https://middex.bandcamp.com/releases
TDA
Brainchild of long time PS collaborator Henry Withers, pouring his brain onto midi equipment. https://www.youtube.com/watch?v=YkQ0VyIIYk4
Approx stagetimes:
00.00 - 1.00 Toby & Rory DJ
11.15 - 11.45 The Rebel
10.30- 11.00 The Birthmarks
9.45 - 10.15 Uncle Tesco
9.00 - 9.30 Rodents
8.25 - 8.45 Middex
7.30 - 8.10 Life Drawings
6.45 - 7.15 Rainham Sheds
6.00 - 6.30 Slushy Guts
5.15 - 5.45 Barry
4.30 - 5.00 TDA
Free BBQ Included in ticket price