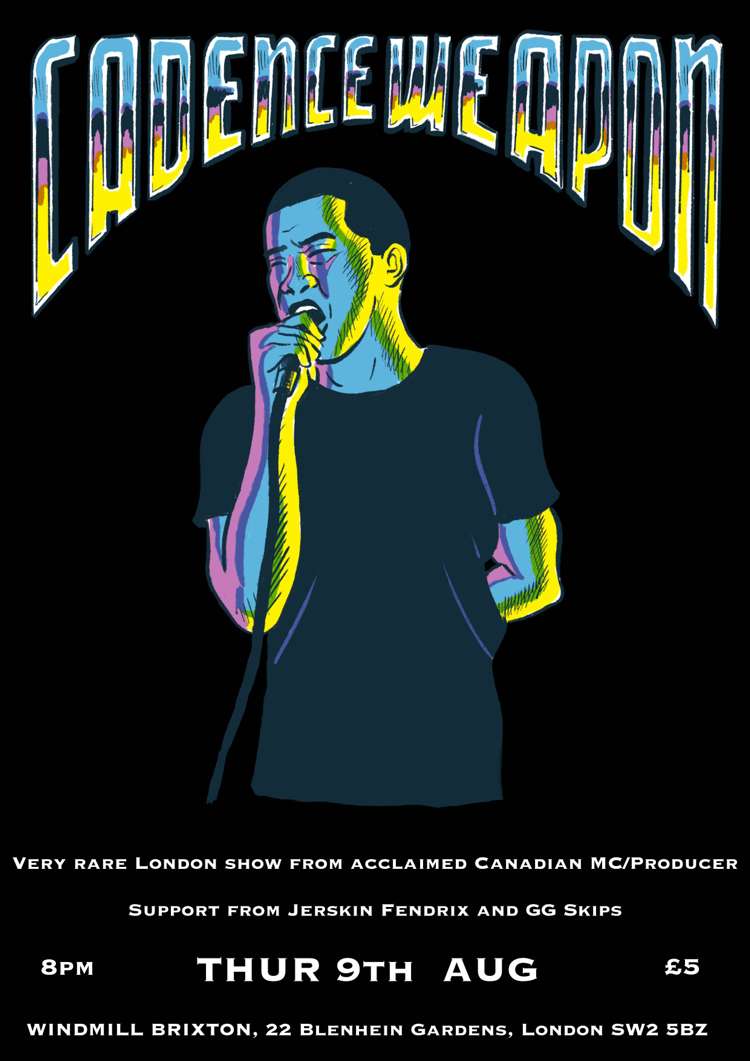 The Windmill presents:
Cadence Weapon + Jerskin Fendrix + GG Skips
£5
Entry Requirements: 18+
We are delighted to present an evening of rap and electronica headlined by poet laureate, producer and Canadian rap legend CADENCE WEAPON.
First London show in six years and only a fiver in advance!
CADENCE WEAPON (Canada)
"As Cadence Weapon, the former Edmonton, Alta., poet laureate and ex-Pitchfork contributor Rollie Pemberton helped bring the Canadian rap underground to light, and in the process, he was twice shortlisted for the Polaris Prize. His new, self-titled album, and first since 2012's Hope in Dirt City, is his most dynamic since his 2005 debut, Breaking Kayfabe, and his most well-written to date: an electro-rap record that, in part, explores the inner workings of Canadian beat communities. The album is full of the brainy dance rap he made his name on. But more than any other Cadence Weapon album, this record unpacks his rap persona and his history as a hip-hop advocate in a rap-averse country that begrudgingly came to embrace the form, thus forcing him to reevaluate his place in the culture. By extension, it weighs his ambitions against his reality." - PITCHFORK
https://soundcloud.com/cadenceweapon/
JERSKIN FENDRIX
Jerskin Fendrix is an experimental songwriter from Shropshire. He likes pop music, and ambient music, and ballads. He will be playing some songs from Winterreise, which is an album about his exciting holiday to New York.
" a smart operator with a wise, knowing line in media-savvy one-man synth pop, who uses Autotune like a dance of the seven veils, and who knows how to make use of lo-fi bedsit trappings without being trapped by them" - MISFIT CITY
https://www.facebook.com/jerskinfendrix/
https://www.youtube.com/watch?v=laKFU7i_NPQ
GG SKIPS
Keys, samples, live drums.
https://soundcloud.com/ggskips