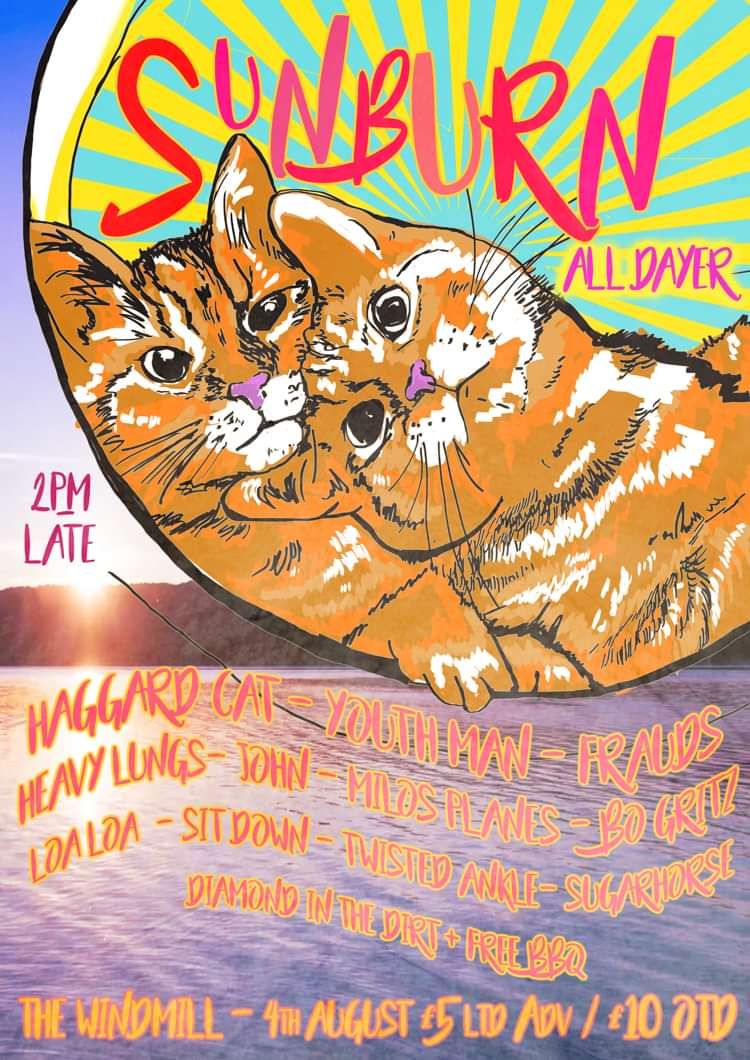 Frauds presents:
Sunburn Alldayer: Haggard Cat, Youth Man and many more
£5 ltd advance/£10 door
Entry Requirements: 18+
Buy Tickets
It is SUNBURN 4!
A summer party curated with love by ourselves Frauds at our very favourite venue the Windmill Brixton.
We are so fortunate getting to know so many amazingly talented people while gigging on the toilet circuit. We decided a few years ago it would be wonderful to invite a selection to play together in London and guess what? It fucking owned.
To our amazement the last couple of years the event has been picked up in Time Out London and in particular it was made 2nd best thing to do in London last year.
We want top billing this year and these are the reasons why:
HAGGARD CAT
Haggard Cat features Tom Marsh on Drums, and Matt Reynolds on vocals/guitar; names you may recognise from the infamously destructive hardcore band 'HECK'. Taking the same attitude and fire that has pushed HECK's name far and wide, Haggard Cat aim to convey the exact passion they are now known for in an entirely new way. Forming way back in 2011 as a means to play as many gigs as the duo humanly could without the restraints of exclusivity thrust upon them as part as the highly acclaimed HECK, Haggard Cat originally intended as a sideline has now evolved into its own beast that the pair have decided to finally unleash into the world.
Haggard Cat toured with the likes of Jamie Lenman, DZ Deathrays and Weirds as well as playing a headline slot at Camden Rocks and opening the main stage at ArcTanGent festival. The band continues to tease their second album, their first since deciding to make Haggard Cat a full-time project, and recently unveiled the singles 'the Patriot' and 'American Graffiti' which enjoyed national airplay on BBC Radio 1's rock show and BBC Introducing.
https://www.facebook.com/HaggardCat/
YOUTH MAN
Destructive Brummie sex punk trio.
https://www.facebook.com/youthmanband/
FRAUDS
Two piece noise bastards - post hardcore wrapped in a mclusky-esque chaos!
https://www.facebook.com/fraudsfraudsfrauds
HEAVY LUNGS
Loud band from Bristol, UK.
Debut EP 'Abstract Thoughts'
https://heavylungsband.bandcamp.com/releases
https://www.facebook.com/heavylungsband/
BO GRITZ
London trio play noisey guitar music of no specific genre drawing influence from Sonic Youth, Scratch Acid, Joy Division, Swans, Fat White Family, Hookworms, Pavement and the Velvet Underground, to name but a few.
They have been described as 'the finest new noise in London' by Gigslutz and are loud.
https://www.facebook.com/bogritzband/
https://soundcloud.com/bogritz/sets/ep2
JOHN
"Taking the mundane spirit of their name as a manifesto, Crystal Palace based two piece JOHN (both members aptly named John) offer a deadpan approach that has become the recognisable force of their live performance, with an almost mechanical solidity rare for only two bodies.
Alongside the rhythmic synchronisation of guitar and drums, introspective lyrics suggest that literature and spoken word are just as important influences as the Punk, Noise and Rock genres they might comfortably fit into. This tight balance between content and volume has lead them on to stages with bands such Pulled Apart By Horses, USA Nails and Idles,
https://www.facebook.com/JOHNTIMESTWO/
TWISTED ANKLE
Noise punk from Cardiff.
https://www.facebook.com/TwistedAnkle/
SIT DOWN
Fuzzed up garage punk from Brighton.
https://www.facebook.com/SitDownyeah/
LOA LOA
the Anthrax of indie rock.
https://www.facebook.com/loaloauk/
MILO'S PLANES
Angry music by four friendly boys.
Punk / Melodic Post-Hardcore / That kind of thing... from Bristol.
https://www.facebook.com/MilosPlanes/
DIAMOND IN THE DIRT
Hertfordshire punk/grunge.
https://www.facebook.com/DiamondintheDirtUK/
SANS
New, loud Bristol-based band. Crashing waves of audio treacle.