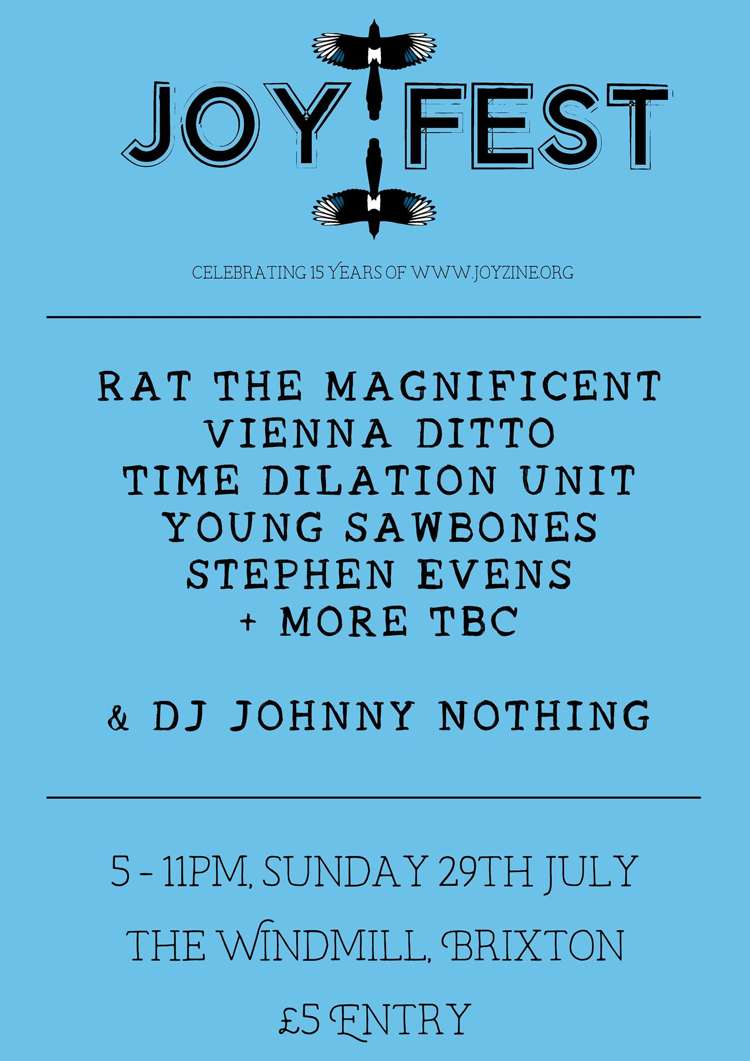 Joyzine presents:
"Joyfest 15"
£5
Entry Requirements: 18+
Joyzine turns 15 this summer and we're putting on a series of shows to celebrate - of course we couldn't think of missing out our home from The Windmill, which has hosted more of our live shows than any other venue.
https://joyzineuk.wordpress.com
The Joyzine Radio Show goes out live every Wednesday from 7-8pm on WandsworthRadio
http://www.wandsworthradio.com
RAT THE MAGNIFICENT
Wine-based four piece power quartet from London.
Overlap the Jesus Lizard, Sally Bowles, MBV/Slint & Son House and you're in the right borough.
And like all the good drinks, the whiskey, the coffee, you need balance in strength. Open-blasted guitars check primitive tradition and bleed into evangelical bass and reductive drum rhythms, providing a bed for Anderson to belie his vocals.
Rat the Magnificent is:
Perry M. Anderson [Sunshine Republic, KLLR, Modern Men]
Ian Catskilkin [Art Brut, Orco]
Ross Davies [Brenda, The Feral Text, Modern Men]
Anna Dodridge [DYWO]
http://www.ratthemagnificent.com/
https://soundcloud.com/rat-the-magnificent/
VIENNA DITTO
"Portishead doing a Tarantino soundtrack... This is great!" - Huw Stephens
"Vienna Ditto mix wild-eyed rockabilly with sparse, atmospheric electronica" - Q Magazine
https://www.facebook.com/viennaditto
TIME DILATION UNIT
Paranoia-fuelled psychedelic space circus glam/rock, reminiscent of the Cardiacs playing Tarred and Feathered͛ with the Seeds Evil Hoodoo on the radio in the background.
https://facebook.com/timedilationunit
https://soundcloud.com/timedilationunit
YOUNG SAWBONES
Young Sawbones is the solo moniker of Ben Fox Smith of Stony Sleep, Serafin, Medical School and First.
https://www.facebook.com/YoungSawbones/
https://youngsawbones.bandcamp.com
STEPHEN EVENS
Stephen EvEns (aka Stephen Gilchrist) has mis-spent the good years gifted him by touring the world and elsewhere as an auxiliary cog in the machinery of major "indie-stardom". A sideman. A player, if you will. A sticks-man, a foil perhaps but never a "session musician."
No such thing. Look it up.
Lucky enough to have stood for some years behind the likes of Graham Coxon, The Damned, Charlotte Hatherley and, for one brief week, Cardiacs, he has decided to shun the tourbus life and take a walk through his own songbook for a change.
Putting down the drums sticks and arming himself with a battered guitar and a casiotone he decided to channel all his bitterness & resentment into songs rather than bottling it up. Breeding some kind of abnormal growth or canker. An album that took far too long to surface has now been coaxed out by the sympathetic ears of Onomatopoeia Records.
The result is the album Bonjour Poulet. A 43 minute song book that mixes the spirit of Yo La Tengo *and *Ivor Cutler with broken friendships and human error. The songs are beautiful and the words are horrible. I don't know why you don't think that's a good thing.
https://www.facebook.com/stephenevensmusic
https://stephenevens.bandcamp.com/
EMILY MAGPIE
Ethereal dream pop with ukulele, harmonies & electronic ambience.
"... a glittering, spacious soundscape– mystical, but never twee." - The Line of Best Fit