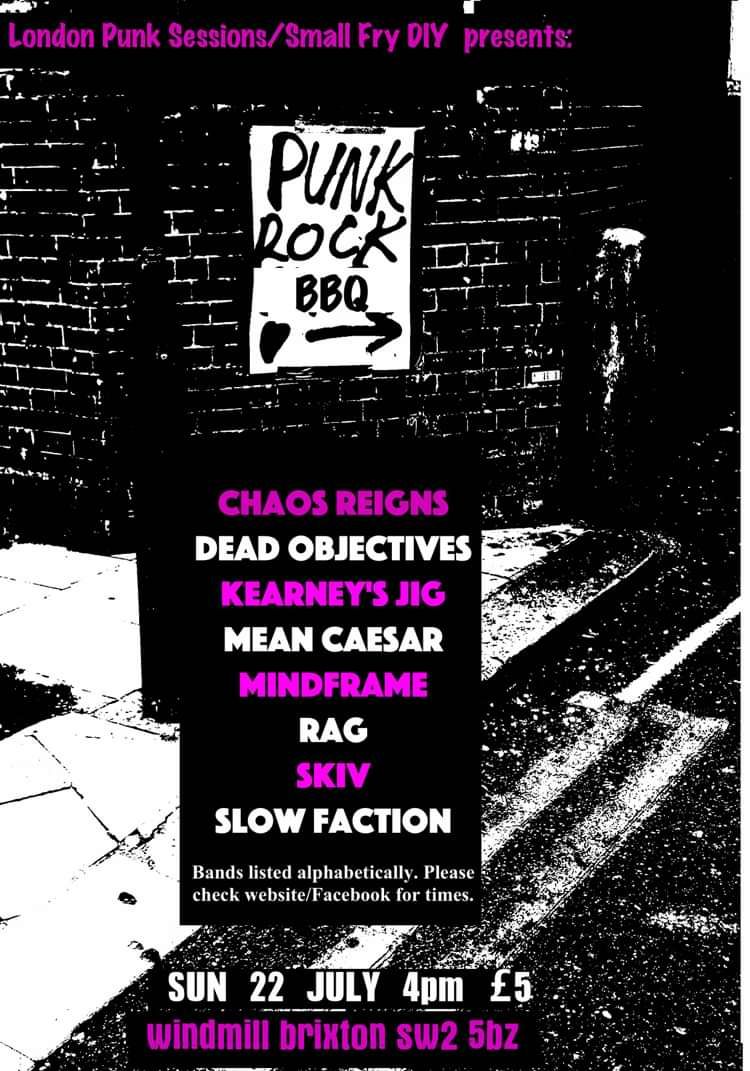 The Windmill presents:
Punk Rock BBQ
£5
Entry Requirements: 18+
The fourth in the summer series of Punk Rock BBQs. Eight bands, 20 minute sets, usually fines up early around 9pm for those who have to work.
Bands are listed alphabetically. Running order to be posted soon.
CHAOS REIGNS
London hardcore five-piece.
https://www.facebook.com/ChaosReignsUKBand/
DEAD OBJECTIVES
"It's thick solid slabs of sound soiled with attitude" - Dick Venom Reviews
https://www.facebook.com/DeadObjectives/
KEARNEY'S JIG
Four-piece punk band from Bristol.
"The phrases "melodic", "old school" and "misguided attempts at comedy" are thrown around from time to time. But due to our influences, the forecast is blustery ramonescore, pop-punk, garage and powerpop, with a possibility of light ska and thrash."
https://www.facebook.com/Woodewooo/
MEAN CAESAR
A new band featuring current and ex members of 46 Itchy, Atomic Newt Beaver, The Barrymores, Crystal Piss, Emanican, Fletch Cadillac, Great Cynics, Handsome Man, Her High Heels, Horse, It's Not OK, Love In Hundreds, The Murderburgers, Myelin, O' Messy Life, Pure Graft, Up In Arms, Visual Offence, Werecats and Writhe.
https://www.facebook.com/Mean-Caesar-1925852077695112/
MINDFRAME
London based punk/hc/ rock band.
https://www.facebook.com/mindframe11/
RAG
Noise/Hardcore Punk Metal from Peckham.
https://ragmusicuk.bandcamp.com
SKIV
Booty twerkin, apathy shirkin, dorothy perkin punk rock since 2016.
https://www.facebook.com/skivilicious/
SLOW FACTION
"Slow Faction is a 1st generation-influenced punk band with a real London 77 sound. The aim of Slow Faction is simple – to make the music they want to hear; politically-charged songs with big hooks and choruses, reminiscent of the 1st wave of British punk. Slow Faction's live sound has been described as a cross between The Clash and The Buzzcocks."
https://slowfaction.bandcamp.com