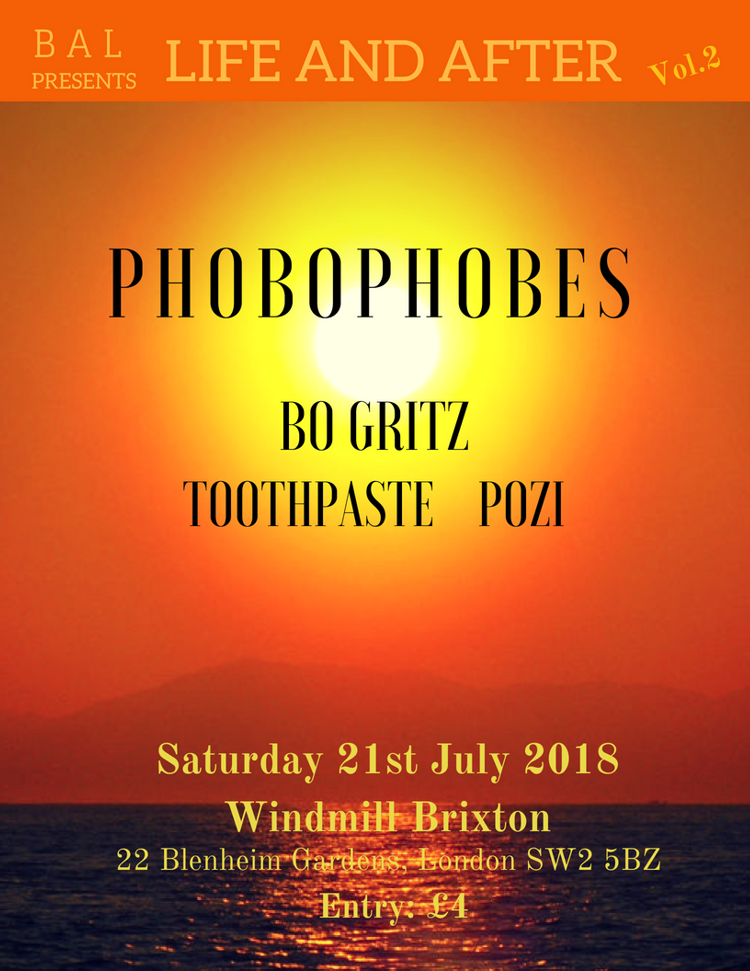 BAL presents:
Phobophobes, Bo Gritz, Toothpaste, POZi
£4
Entry Requirements: 18+
PHOBOPHOBES
'Dirty, gritty psychedelia, the band match the low-slung growl of The Birthday Party, say, to the organ-wash of The Seeds.' - Clash Magazine
'…a burbling swamp of acidic organ, bad-trip vocals and lacerating guitars' - Q MAGAZINE
Debut album 'Miniature World' our now on Ra Ra Rok Records
https://www.facebook.com/Phobophobes
https://soundcloud.com/phobophobes/
BO GRITZ
London trio play noisey guitar music of no specific genre..
They have been described as 'the finest new noise in London' by Gigslutz and are currently busy writing their second EP.
They are loud.
https://www.facebook.com/bogritzband/
https://soundcloud.com/bogritz/sets/ep2
TOOTHPASTE
Toothpaste are here to bring you minty fresh pop bangers.
Having first made their mark on the London indie scene in various other musical projects, Amol (vocals/guitar), Daisy (bass), Poppy (synth) and Sami (drums) now endeavor to provide both wicked tunes and okayish oral hygiene, inspired by those including Slowdive, Wild Nothing and the Emerson Brothers.
The band's debut single, 'TV Years', launched in August 2017 and explores the sense of disconnect between people in the modern world. Or as Amol describes: 'the sort of feeling that makes you want to stay away from the outside world, at home watching TV'.
Having already headlined shows amongst the likes of whenyoung and Smiler, and with their previous incarnations playing alongside GIRLI, Fish and Strange Cages, Toothpaste are set to bring their freshened up live show to everywhere across the land in 2018.
Enjoy hygienically.
https://www.facebook.com/toothpasteuk/
POZi