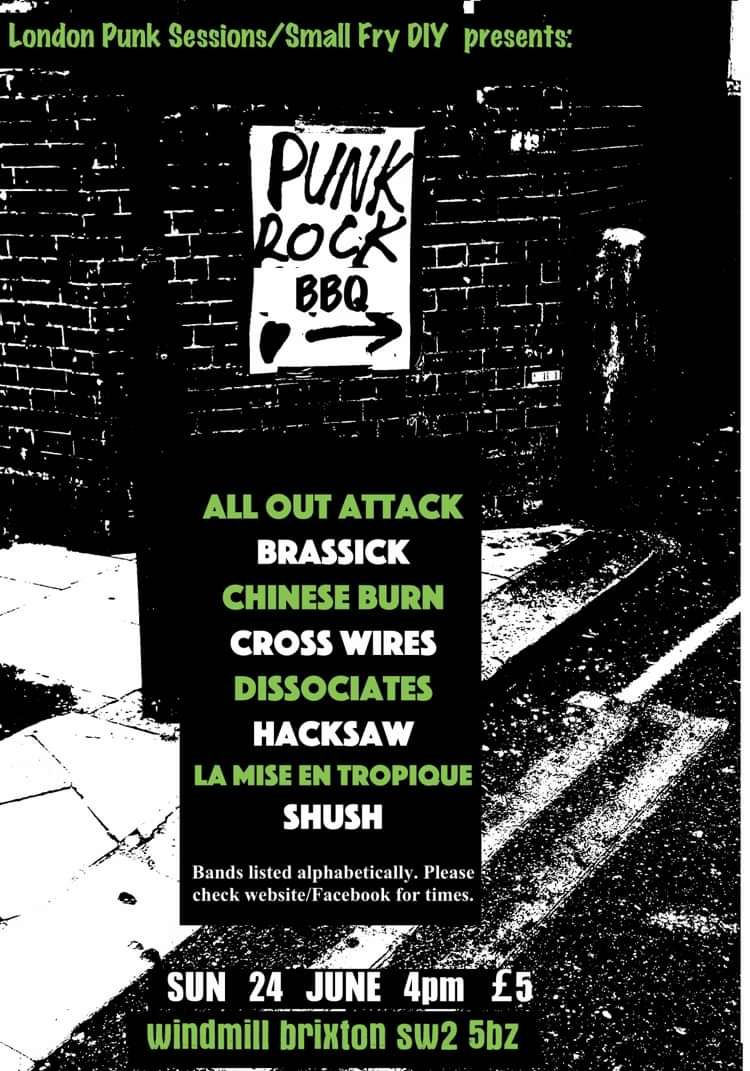 London Punk Sessions/Small Fry DIY presents:
Punk Rock BBQ
£5
Entry Requirements: 18+
The second in the summer series of Punk Rock BBQs. Eight bands, 20 minute sets, usually fines up early around 9pm for those who have to work.
Bands are listed alphabetically. Running order to be posted soon.
ALL OUT ATTACK
Northumbrian punk-rockin' mayhem!!
https://www.facebook.com/AllOutAttackUK/
BRASSICK
Hi-energy punk from Brum.
CHINESE BURN
Rockdiscopunks from Stroud.
https://www.facebook.com/ChineseBurn2015stroudrockers/
CROSS WIRES
"Sounding like an angry mix of The Jam and Elvis Costello and The Attractions" - Fred Perry Subculture
https://crosswires.bandcamp.com
https://www.facebook.com/CrossWires
THE DISSOCIATES
Dissociates is a sarcastic London punk rock band somewhere between Fugazi and NOFX with a hefty dose of Wire and Pavement. They've played all over the UK and Europe with the likes of Joe Lally (fugazi),
SNFU, Get Dead, Red City Radio, Wonk Unit, Crazy Arm, Sweet Empire, Guerilla Poubelle and many more. Their critically acclaimed album 'A capital idea' came out in 2018 on Safety Second Records
https://thedissociates.bandcamp.com
HACKSAW
Two old duffers playing punk rock...badly,.
https://www.facebook.com/hacksawbristol/
LA MISE EN TROPIQUE
Grind/Punk/Variété from Lille.
https://www.facebook.com/lamiseentropique/
SHUSH
"Multi-national. Poly-cultural. And many faceted, Shush are a bright spark from the fires of what is best termed alternative pop-rock. They've got the sort of breezy, breathy sense of melody that enriches the sounds of bands from the Foo Fighters to Horror Pops and McQueen." - TOTAL ROCK RADIO