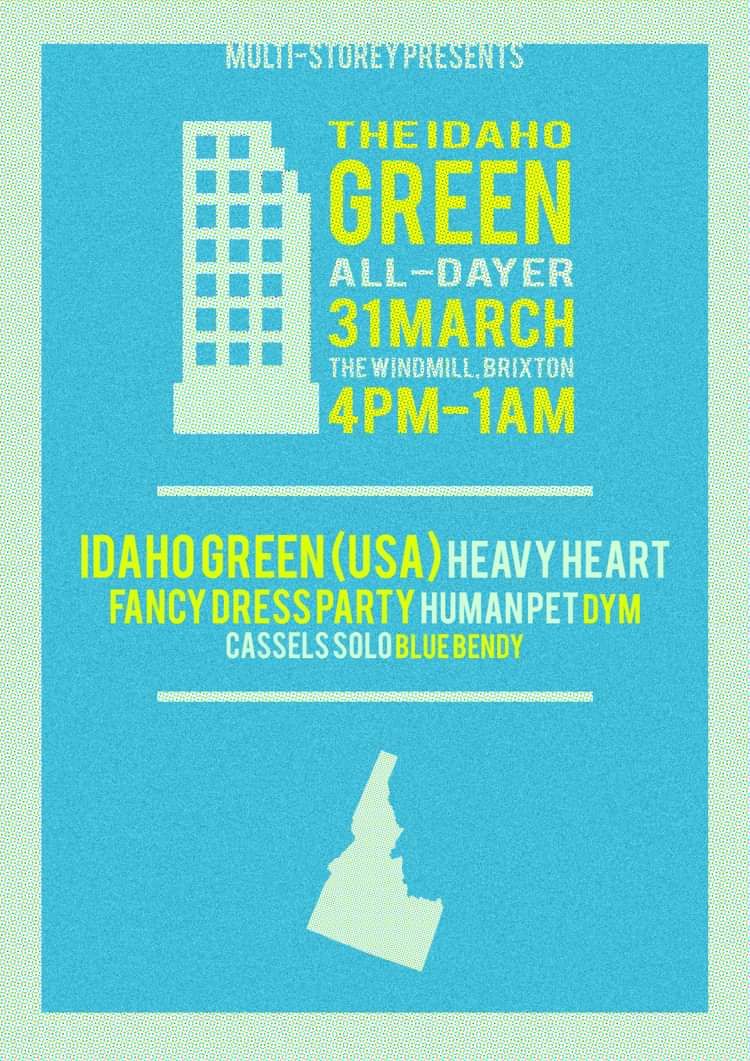 Multi-Storey Promotions presents:
Easter Alldayer: Idaho Green (USA), Heavy Heart, Human Pet + more
Idaho Green + HEAVY HEART + Fancy Dress Party + Human Pet + Dym + Cassels + Blue Bendy
£4
Entry Requirements: 18+
IDAHO GREEN
Slacker lounge-punk from Brooklyn, NYC.
https://idahogreen.bandcamp.com
https://www.facebook.com/idahogreenband/
HEAVY HEART
In 2016, Heavy Heart embarked on a project to write, record and release a new song each month, building support throughout the year from the likes of The Line of Best Fit, Little Indie Blogs, Dork, 6 Music and Fresh On The Net. During this time, the band also started working with vinyl label I Can & I Will Records, who went on to release all twelve songs as a limited-edition LP called Keepsake in March 2017 (http://bit.ly/KeepsakeHH)
Lead single Fruitfly was chosen as a Future First on Phil Taggart's BBC Radio 1 show, and also got some featured airplay from Steve Lamacq at 6Music and John Kennedy at Radio X.
"Sumptuous - a graceful and rewarding listen" - NME Radar
"Brilliant, nicely fuzzy 90s influenced guitar pop banger that sits perfectly alongside Wolf Alice, INHEAVEN and co" - Dork
https://www.facebook.com/heavyheartmusic/
FANCY DRESS PARTY
Sulkwave from Oxford.
https://www.facebook.com/FancyDressParty/
HUMAN PET
Postpunk trio from London with debut single out now on Permanent Creeps.
https://www.facebook.com/humanpet/
https://soundcloud.com/humanpet
DYM
Slint-esque post-hardcore machine turning loudly (and then queitly and then loudly again) through all your favourite venues. Expect a barage of noise, pretty rhythmic bits and occasional spoken words.
https://dymtheband.bandcamp.com/releases
https://www.facebook.com/dymtheband/
CASSELS (solo set)
https://www.facebook.com/casselsband
BLUE BENDY
https://www.facebook.com/BlueBendyBand/