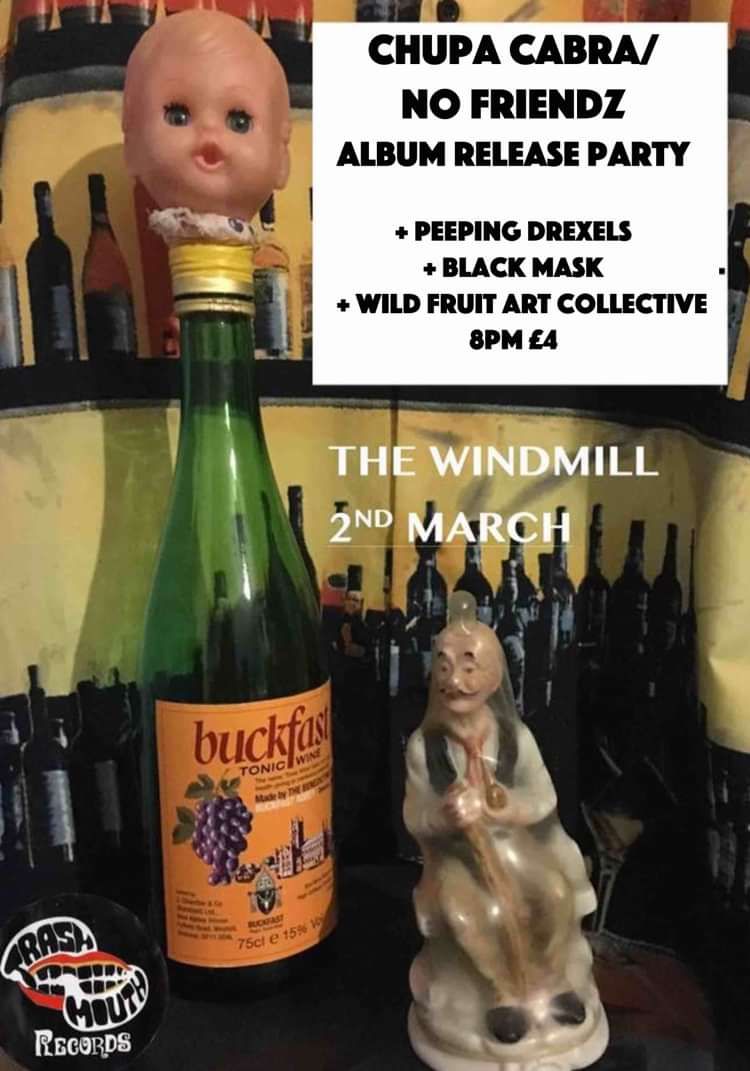 Trashmouth Records presents:
Trashmouth Records: No Friendz/Chupa Cabra joint album release party
No Friendz + Chupa Cabra + Peeping Drexels + Black Mask + Wild Fruit Art Collective
£4
Entry Requirements: 18+
On this day notorious south London label Trashmouth Records (home of Fat White Family, Madonnatron etc) release a split LP by No Friendz and Chupa Cabra.
It'll be a full on party and some choice supports will be added soon!
NO FRIENDZ
Taking inspiration from such rock and roll luminaries as Shania Twain, Whigfield and Aqua; Trashmouth recording artists NoFriendz are bound to be the most fascinating 6/10 live experience of this year.
https://www.facebook.com/bestnofriendsforever/
https://www.youtube.com/watch?v=eN23E_Yphg8
CHUPA CABRA
One generation or another's alienation, derangement and dirty washing, projected back at you through Chupa Cabra's Nauseating, salivating, hypnotizing, no good sucker-punch-piss-yourself polystyrene agitator Blues.
ROCK N ROLLIES. LOUD MUSIC N LOUD SHIRTS. THE ADDAMS FAMILY BAND.
https://facebook.com/bandchupacabra
PEEPING DREXELS
Peeping Drexels make music about horrible people. From tales of drunk driving to songs exploring the ignorance of modern Britain, their music is the reflection of an angry working class, abandoned by their government in a post-brexit, post-progressive world.
Brewing from the ever expanding South London scene, Peeping Drexels have been gigging relentlessly for the past year, perfecting their live set into an aggressive punch in the face to anyone brave enough to watch. Akin to bands like Fat White Family in style and stage presence, the band recently had their biggest ever headline show, with LUMER and Treeboy & Arc in support, as part of some of London's' biggest promoters 'big in 2018' series of events at The Sebright Arms. Having caused a stir with recent single 'The Goof', released via new label Permanent Creeps, and having already played with the likes of Phobophobes, Goat Girl, Meatraffle, Table Scraps, Vulgarians, LICE, Yowl, Hotel Lux, Sweaty Palms, Beachtape and Bo Gritz (to name but a few), Peeping Drexels are fast becoming one of London's most exciting prospects.
https://www.facebook.com/thesneakysound/
BLACK MASK
A trio of humanoids wishing to play you music about peace and love and crime and melting
https://www.facebook.com/Bl4ckMask/
https://blackmaskblackmask.bandcamp.com/music
WILD FRUIT ART COLLECTIVE
Wild Fruit Art Collective set out to make every year less banal than the last. From early beginnings playing in Huddersfield with a hair metal band with wireless guitars on a stage about 5 feet wide, to recording sessions with Kristian Bell (The Wytches) and working on shows with Trashmouth Records (home to Fat White Family, Meatraffle, Madonnatron).
The everything in between involves touring around the UK spreading their brand of noisey, doom-laden cynicism while harvesting the minds of the pure. Whether its a gig outside John Lewis in Liverpool wearing McDonald's wrappers for masks or a half improvised set in a basement, dressed as posh tory ladies with a passing pirate who was persuaded to get on stage, Wild Fruit have done everything the hard way until their guitar player's lung collapsed...twice.
In the moments when the lung was healthy, Wild Fruit have played alongside The Wytches, Bo Ningen, Goat Girl, Madonnatron, Taman Shud and have performed several shows with the legendary Patrick Lyons on spoken word duties (famed for his "weirdest speech at NME awards" YouTube video) as well as festival slots at Sound City 2017 and the mainstage at WRONG fest 2017. The follow up to their fish-punching debut music video "Wishful" was released in March 2017, when they released their first single "Under The Hooves". With three new singles planned for release in early 2018, next year will certainly be less banal than this one.
The above exploits have led to a cult of people getting the Wild Fruit Art Collective logo tattooed to themselves for life. Here's what some of them had to say:
"Wild Fruit Art Collective could easily be taken for perverted aural sex freaks, which is exactly what they are. They sound like a group of belligerent punk monks who want you under their robes. Do not resist" - Madonnatron
"Wild Fruit Art Collective are a loose, musically anarchic band from Liverpool playing dark, slightly chaotic music. The band fill the venue they play with all encompassing sound. It is an immersive experience" - Louder Than War