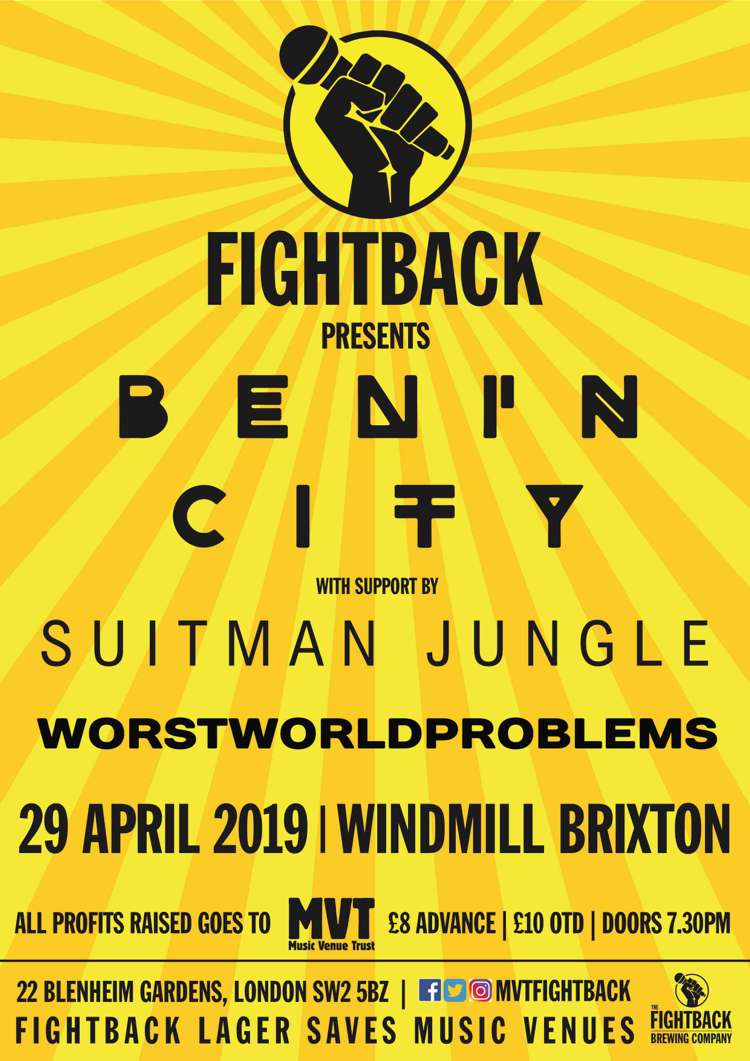 Fightback presents:
Benin City + Suitman Jungle + Worstworldproblems
£8adv/£10door
Entry Requirements: 18+
FIGHTBACK LAGER - LONDON LAUNCH PARTY This Beer Saves Music Venues!
Fightback is the fundraising arm of the UK registered charity Music Venue Trust which acts to protect, secure and improve music venues. A proportion of sales from Fightback Lager will go to defending venues from closure and tonight we're thrilled to give it a London launch party!
Live sets from:
BENIN CITY
Benin City is the London-based three-piece comprised of vocalist and poet Joshua Idehen, vocalist Shanaz Dorsett with multi-instrumentalist Tom Leaper.
Clubbing is a source of euphoria: a weekly, often daily escape, a respite from the grind. That culture and its landmarks – some of London's best venues and many countless pubs - are slowly disappearing for good. On Last Night, which was recorded in all four corners of London with Marc Pell (Micachu and the Shapes), LV, Rob Marfarlane and James Anderson, Benin City take an album-long look at the dual nature of London's nightlife. With a sound and mood that locates itself in a small sweet spot between Faithless, Metronomy and early Stromae, the album's narrators draw on the last decade of their collective experiences as ravers, bar workers and observers. These reflections are primed for the dancefloor: a hook-laden blend of Afro-dance pop, hip-hop, spoken word
"Refreshing, exciting and completely unique." - Soweto Kinch
'A sultry piece of Afro dub blues-' Q Magazine
'one of the UK's most exciting new bands' –Huffington Post
'This is a 21st century record through and through, one whose sonics sit comfortably next to The xx and Kode 9' - Arts Desk
https://www.facebook.com/BeninCity/
SUITMAN JUNGLE
Suitman plays live jungle and drum & bass mash-ups using a stand-up cocktail kit and SPD-SX.
Suitman is also the drummer in Micachu & The Shapes and Mount Kimbie so you know this'll be something special.
https://soundcloud.com/suitmanjungle
https://www.facebook.com/suitmanjungle/
WORSTWORLDPROBLEMS
"Worstworldproblems, comprised of producer nomorewillroam and vocalists teenslasher91 and gargoyle, take the ice sounds of drill and weave in lopsided, skewed vocals that deal with disaffection and loneliness, swapping front and braggadocio for vulnerability." - NME (Hot 100 list, 2019)