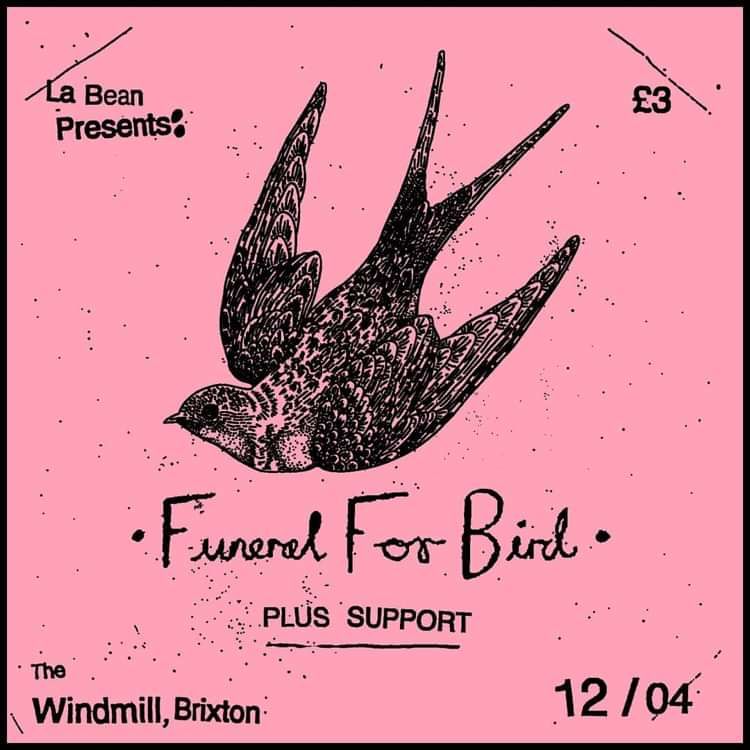 La Bean presents:
Funeral For Bird + Daudi Matsiko + Mathilde Battaillé, + Avice Caro
£3
Entry Requirements: 18+
Buy Tickets
Funeral For Bird's single launch party with:
FUNERAL FOR BIRD
A South London project exploring indie folk, with elements of electronic music and other genres.
https://www.facebook.com/funeralforbird/
https://open.spotify.com/artist/2WkQval5g2AwQC9JeqLtQH?si=7iRUzLX0Ssma2j9tAZWnKQ
DAUDI MATSIKO
Born and raised in the United Kingdom, Ugandan singer-songwriter and guitarist Daudi Matsiko carefully crafts modern albeit reverent folk. Deft, melancholic picking reminiscent of Nick Drake is tempered by contemporary percussion and instrumentation, and Matsiko's vocals derive their strength from their seeming fragility, a warble in notes that may or may not be intentional. With every song, his confessional lyrics cut to the marrow. After releasing two independent EPs, A Brief Introduction to Failure and The Lingering Effects of Disconnection, he signed to Naim Records and has toured with GoGo Penguin, Keaton Henson and Portico Quartet.
https://www.facebook.com/hellodaudi/
https://open.spotify.com/artist/41QVnDFGdU4ALpM7zCe9CL?si=N1RyfDqZSAOpdApCKYafkw
MATHILDE BATAILLÉ
French singer-songwriter Mathilde Bataillé's music is intimate and beguiling, combining meandering guitar with heartfelt vocals and homespun electronics. Taking cues from the likes of Jeff Buckley, Patti Smith and the French chanson, her live shows resonate with introspection and a grander emotional catharsis.
https://www.facebook.com/mathildebat/
https://open.spotify.com/artist/1StNxJngs4qvhIy76h1Cgs?si=3ij_oUVRQhu-iIBZQkQSTA
AVICE CARO