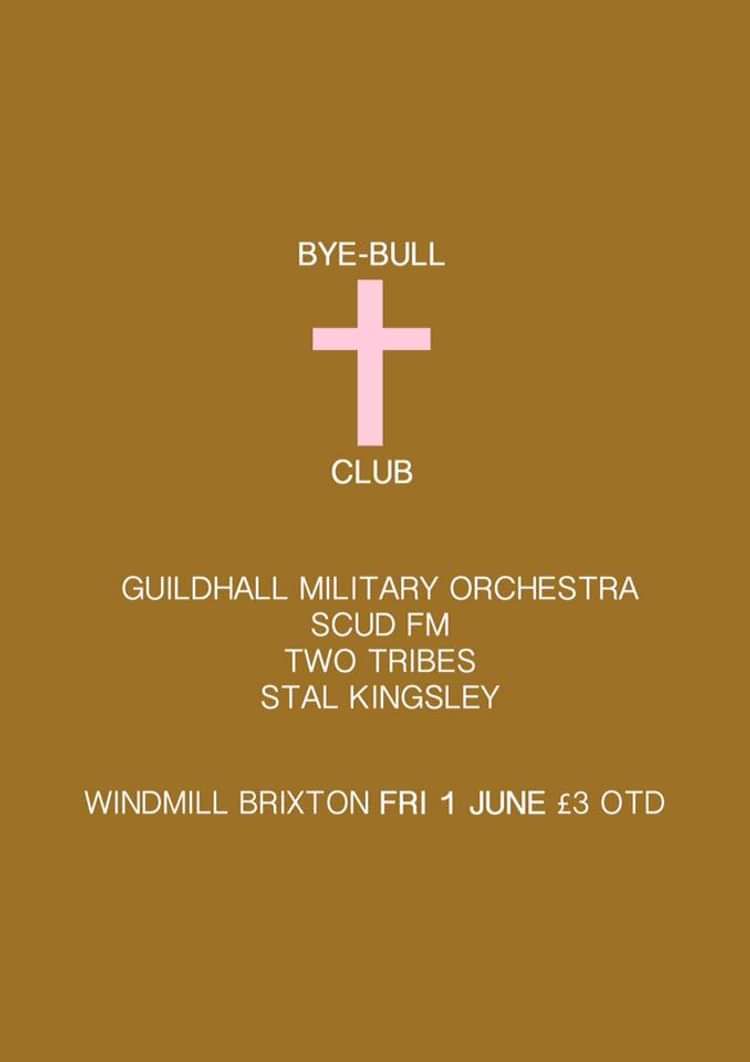 Bible Club presents:
"Bible Club #9" - Guildhall Military Orchestra, Scud FM, Two Tribes, Stal Kingsley
Guildhall Military Orchestra + SCUD FM + Two Tribes + Stal Kingsley
£3 on the door
Entry Requirements: 18+
Chapter nine of Bible Club, featuring:
GUILDHALL MILITRAY ORCHESTRA
Dark whirling noise clash violently with the squealing sax, The infinite ricochets of mangled bullets rattle despairingly, distortion and tremors run wild throughout the Guildhall Military Orchestra's live set. With influences from techno, noise, punk aesthetics and free jazz, GMO takes you head first through an auditory war zone: Jittery sax improvisations shatter through the audience, juxtaposed by hyperreal sound design and chaotic rhythms.
https://www.facebook.com/GMORCHESTRA/
https://soundcloud.com/user-809202137
SCUD FM (Meatraffle)
Zsa Zsa from Meatraffle's new trumpet, synth and guitar project.
"Bastard music for people lost in the system, locked in the mode of production of passivity and consumer culture. We also hate golf and flip flops." .
https://www.facebook.com/SCUD-FM-548164638902088/
TWO TRIBES
Taking influence from 80's indie synth music such as Depeche Mode, Talk Talk & Nine Inch Nails as well as contemporaries DIIV / Jagwar Ma, Hackney 4 piece Two Tribes have a reputation for captivating shows.
https://www.facebook.com/twotribesband/
STAL KINGSLEY
Lo-fi loungegaze; south London.
https://www.facebook.com/STALKINGSLEY/