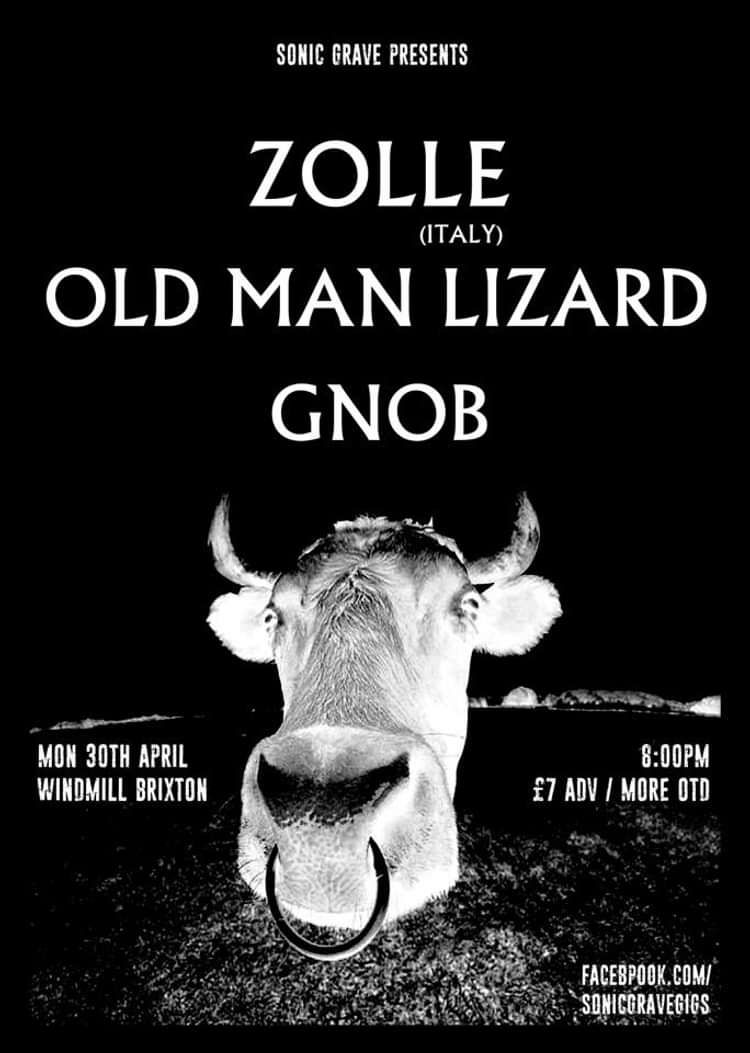 Sonic Grave presents:
Zolle, Old Man Lizard, Gnob
£7adv/more on the door
Entry Requirements: 18+
Buy Tickets
ZOLLE (Italy)
Joining us all the way from Italy! Instrumental (emphasis on the 'mental'), Porcine-obsessed drum and guitar power-duo – featuring 1/3 of math-y nutters Morkobot – that sound something like Torche covering the Melvins with the grace and precision of a runaway tractor. Expect serious riff onslaughts and a groove like swaying cattle. Trust us, this'll be something special.
https://zolle.bandcamp.com/album/infesta
https://www.facebook.com/zollezollezolle/
OLD MAN LIZARD
"Proving that wielding a caveman level of heaviness doesn't mean you can't have some soul too, Suffolk based trio Old Man Lizard's part blues jam, part country-infused stoner onslaught feels steeped in the bucolic atmosphere of their semi-rural surroundings, and the warm stomp of the likes of craniopagus Parasiticus separates them from many of the stoner-come-latelys." METAL HAMMER
https://oldmanlizard.bandcamp.com/
https://www.facebook.com/oldmanlizard/
GNOB
Lysergic psych-rock par-excellence from east London. Part bong-rattling stoner riffs, part intricate cosmic meanders, steeped in Eastern/Arabic influence. Like Candlemass covering Tinariwen. Or the other way around…. On early; seriously not to be missed.
https://www.facebook.com/gnobuk/
Sonic Grave DJs until late
Stagetimes:
Zolle: 10:20
Old Man Lizard: 9:20
GNOB: 8:30