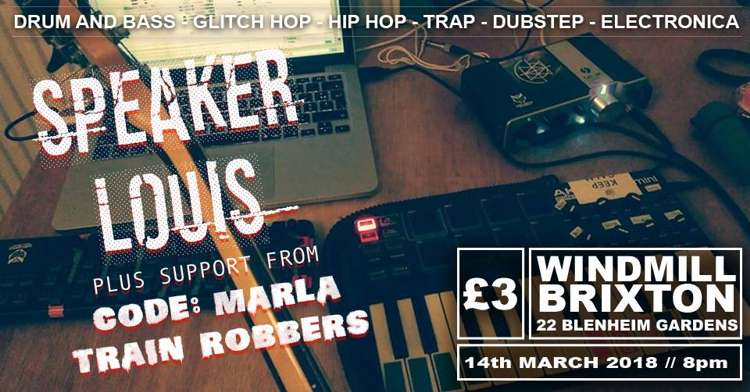 The Windmill presents:
Speaker Louis, Code: Marla, Train Robbers
£3
Entry Requirements: 18+
A night of live hip hop to electronica, from old school lyrical madness to live drum & bass via dubstep and trap.
Speaker Louis & guests
'Speaker Louis' is a french live act: one man, his machines and his bass guitar. After releasing several EPs on labels such as Glitch Hop Community or Digital Whomp, he moved to London a year ago to spread his music in the UK. From underground stages to club venues, he delivers an energetic live show involving: reggae-influenced Drum & Bass beats! Bass frequencies and gunfingers! Futuristic computer effects and Glitch-Hop vibes! 2018 started with the release of his EP "Crossfire" including collaborations with english and French vocalists.
https://www.youtube.com/watch?v=Tc_EUtceAW0
https://www.facebook.com/speakerlouis/
https://soundcloud.com/speakerlouis/
Code: Marla
The Code: Marla sound stretches from bass through trap, hip hop and rock, but always woven together with live instrumentalism, popping vocals, harmonies and bass. Code: Marla have recently released a new EP: "Origin Story". This is the fifth release by Code: Marla on Bitnormal Records and is the first featuring the brand new lineup of The Impossible Man (vocals), CJ Thorpe (bass, beats and synth), and Fraser Hall (guitar).
https://www.youtube.com/watch?v=yyO3dVMrsfU
Train Robbers Just a couple kids from the sticks bringing that funky, old school, hip-hop goodness. They've made it this far, hoping to continue the blag.
https://www.youtube.com/watch?v=-N0vpHX71C8
https://robbingtrains.bandcamp.com/
Stagetimes:
8-8:45 Train Robbers
9-9:45 Code: Marla
10-11 Speaker Louis